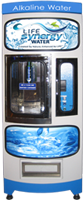 Carlsbad, CA (PRWEB) July 02, 2011
Profitable Performance Water - The LV-1000 is an alkaline water vending machine that offers businesses the opportunity to profit from the rapidly expanding market for healthy "Performance" waters. Bottled alkaline water sells for much higher prices than regular bottled water because of the health benefits it provides. Health conscious consumers are clamoring for alkaline water, and they are willing to pay $2 for a 500ml bottle. By contrast, you could vend that same 500ml from the LV-1000 for only 50 cents, because it costs you pennies to make!
Maintaining the system is easy, especially if you have multiple machines. The LV-1000 sends a notification by e-mail when the filters need changing or other service is needed.
Alkaline water made by the LV-1000 has a pH of up to 9.5 and has strong Oxygen Reduction Potential, making it a powerful antioxidant. The ionization process used by the system breaks water molecule clusters down into smaller clusters - a process known as microclustering, which makes water easier for the body to absorb. Water produced by the LV-1000 has a slightly sweet taste that customers are sure to love!
Water dispensed by the LV-1000 is purified by reverse osmosis filtration. Minerals removed by reverse osmosis treatment are replaced by a built-in mineral injection system that provides antioxidant minerals. The LV-1000 Vending Machine can dispense 530 gallon per day of ambient temperature or chilled water using its patent-pending Super Chilled™ water system.
Optional features include a bottle-vending system that is built into the machine; it dispenses resin or stainless steel bottles that can have custom logos. Also available is a built-in video monitor that can play custom DVD's or can have content delivered via a wireless system that can be remotely programmed. Both can deliver on-site education and/or marketing content for additional revenue streams. Other options include an automatic bottle washer and credit card processing.
The LV-1000 can be set up so that all point-of-sale information is available online so your sales figures as well as what filters need replacing can be accessed at any time. This machine is the ultimate in vending technology with its LifeSmart Technology™.
EarthTrade Water Chief Executive Visionary Rick H. Cabados says that the LV-1000 provides a brand new profit center for businesses. "The public is clamoring for functional (alkaline) water, just look at the explosion of 'functional' bottled waters. The LV-1000 offers business owners a chance to cash in on one of the largest public health movements ever."
About EarthTrade Water, Inc.
EarthTrade Water™ manufactures many well known healthy water products including Life Ionizers™ water ionizers which are sold worldwide. EarthTrade Water™ also manufactures and distributes "all things water"™ including home filtration systems like the Dolphin Whole Home Filtration System™; a full line of BPA free water bottles; "Pitcher of Life™" alkaline water pitcher; Dr. Life Vortex Water Optimizer™; and many other high quality products.
EarthTrade was founded by Rick H. Cabados in 1996, and along with his technicians and advisors have over 60 years of water treatment experience. Their team developed the patent-pending Chilled Water® system specifically for the LV-1000, and spent over 5 years developing, testing and refining the alkaline vending system.
For more information on the LV-1000, visit http://www.earthtradewater.com/water-ionizers/alkaline-water-vending-machine or call (877) 204-7772
###