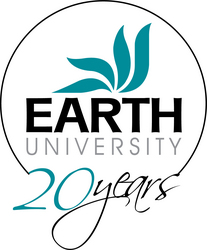 Planting trees is a simple act with a big impact. We hope this project will raise awareness of global climate change issues and unite people around the world in a common cause
Atlanta & Costa Rica (Vocus) March 10, 2010
On June 5, 2010, World Environment Day, EARTH University will unite its alumni and friends in 26 different countries to plant at least 200,000 trees. The global event, called EARTH Plants the Future, is a concrete and practical action to mitigate current emissions of greenhouse gases and will fix approximately 6,800 tons of carbon dioxide annually.
This event, which is being made possible thanks to the support of EARTH faculty, students, sponsors, friends and alumni, is part of EARTH University's 20th Anniversary celebration.
"Planting trees is a simple act with a big impact. We hope this project will raise awareness of global climate change issues and unite people around the world in a common cause," affirms José Zaglul, President of EARTH University.
"Over the course of its 20 years, EARTH has responded to the urgent need to address environmental destruction and climate change and its graduates have been instrumental in introducing sustainability in their work and communities," he adds.
In order to generate support for the activity, EARTH University launched the event web site today at: http://www.earthplantsthefuture.org. On the site, trees can be purchased for $5 each to be planted by EARTH University on June 5. In addition, site visitors can "plant" trees in a virtual forest. For every 20 virtual trees planted, the activity's sponsors will donate one real tree to be planted on June 5. Also available on the website is information on how to join existing tree planting activities organized by EARTH alumni around the world and other ways to get involved in the event.
EARTH Plants the Future is being made possible thanks to the generous global sponsorship of CNN International and Cummins Inc.
Celebrating its 20th Anniversary in 2010, EARTH University (http://www.earth.ac.cr) was founded with the support of the United States Agency for International Development (USAID), the W.K. Kellogg Foundation and the Government of Costa Rica to prepare young people from economically-depressed communities in Latin America, the Caribbean and other regions, including Africa and Asia, to become agents for change in their communities. EARTH offers a four-year undergraduate program in agricultural sciences and natural resources management, providing a world-class scientific and technical education that emphasizes values, ethics, entrepreneurship and environmental and social commitment. Through the generous support of donors, EARTH University provides opportunities to young people who want to make a difference in the world but lack the financial resources for higher education.
EARTH University Foundation (http://www.earth-usa.org) was formed to support the educational vision of EARTH University through generous gifts from the global community and other programs and initiatives. The Foundation is a registered 501(c)(3) public charity headquartered in Atlanta, Georgia.
###