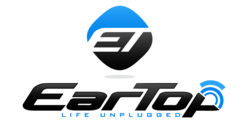 "Command Partners stood out to me because of their knowledge of the hi-tech world and what they could bring to the table," said Creator Ketan Rahangdale
Charlotte, NC (PRWEB) August 08, 2012
EarTop Technologies has brought in digital marketing agency Command Partners to lead their Kickstarter funding campaign for their product FLOW, a bluetooth device that will stream music wirelessly to your stereo or headphones.
EarTop Technologies began their Kickstarter campaign on August 2 with a goal of $250,000. They are currently at $29,401 with 34 days left to go.
"I was looking for an agency that had the same passion and drive as I do," said Creator Ketan Rahangdale. "Command Partners stood out to me because of their knowledge of the hi-tech world and what they could bring to the table."
FLOW Series is an accessory that can transform your high quality Beats Solo and Studio headphones, and Bose Quiet Comfort headphones into the best Bluetooth headphones with APTX on the market. This is done by plugging the FLOW into the audio inputs on your headphones.
The wireless headphone device has already gotten some great press, from Mashable, Tech Cocktail, Fox News Live and Inc.com.
"Ketan and his team are poised for success in an industry where this product will disrupt the marketplace," said Command Partners Managing Partner Amish Shah. "We look forward to a long term relationship with EarTop Technologies."
Backers can get the Early Bird reward and own their own FLOW for $50, which will come with a headphone mount for either the Beats Studio or the Beats Solo.
To learn more about FLOW and EarTop and to pre-order your FLOW, visit http://bit.ly/flowKS.