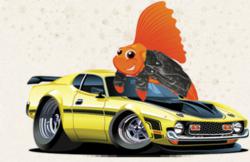 (PRWEB) August 30, 2012
RoadFish.com men's lifestyle and finance magazine today released their observations about the reasons why paying down a home loan might not be incredibly helpful in the long run from a financial standpoint. RoadFish.com's take on this may aid home owners in making smart financial decisions regarding paying down debt and what sorts of loans to pay off first.
Jonathan Fahey of the Associated Press wrote a recent article tackling the question of whether paying down one's mortgage quicker than necessary is helpful. Fahey points out that many times, the desire to be debt-free in terms of mortgage happens more on an emotional level than a financial one, since from a financial standpoint it actually typically is wiser to hold off on paying more than necessary each month on a loan. The article reports that not only do mortgages help lower taxes, but the interest on mortgages is actually quite low compared with other loans these days. Fahey points out that credit card interest is typically much higher than mortgages, especially in this day and age, and so many people might fare better by putting the extra money towards chipping away at credit card debt rather than their home loan. Another perk for mortgage payments is that as long as they are paid on time and in full each month, they can help strengthen and build a consumer's credit score.
RoadFish.com supports Fahey's thesis, but encourages readers to analyze their individual financial situation to assess the best method of paying off debt. RoadFish.com's Senior staff writer is quoted as saying, "I've always thought it best to prioritize paying off debt based on which lenders have the highest interest rate. For instance, if I owe money on student loans, a house, and to two credit cards, I would figure out which one is charging me the most interest then get to work on paying that off the fastest. Now, the answer might not be the same for every consumer. And obviously everybody has different degrees of debt. So if a mortgage is the thing with the highest interest rate, I would never dissuade anybody from trying to pay that off as quickly as possible. I do agree however that if there is other debt in the picture, with higher interest rates, priority should go to those getting paid off instead of the mortgage. Most credit card debt is incredibly expensive due to the high interest, plus there's zero tax benefit, making it a lose-lose debt and a huge priority to get rid of."
The above-mentioned article includes a quote from Greg McBride, a senior financial analyst at BankRate.com, who says, "Generally speaking, there's no advantage to paying down a mortgage earlier than you need to." Fahey reports that the average current rate on a 30-year mortgage is 3.66%, the lowest it's been in about 60 years, so speaking strictly about being charged excessive interest, there are other lenders who come with a much higher interest rate. The article points out that alternative ways for borrowers to put the extra money they would put toward their mortgage to better use could be reinvesting the savings into retirement funds, emergency funds, or another nest egg like a college fund where the money can accumulate interest on its own.
RoadFish.com did admit that there is a certain emotional attachment to paying off a mortgage, and believes that this is a motivating factor for many. RoadFish.com's Senior staff writer is quoted as saying, "It's a rare day when the final mortgage payment goes through, and the mortgage becomes officially paid off. That's a big day, and a big weight off of homeowners' shoulders, to be able to pocket the would-be mortgage payment for every month thereafter. I imagine that people look forward to that day for years and years, and the prospect of hastening its arrival is tempting. I can't say for sure, but I have a hunch that it's that emotional excitement of 100% owning the house that drives people to pay the home loan off faster, even though there may be higher interest debt in their lives."
The AP article also refers to taxes in its discovery that consumers with home loans are granted certain tax breaks by the federal government, as long as they are paying a mortgage. Borrowers can deduct the interest accumulated by their mortgage from their income, saving money every tax season. Yet another proven money-making option is to utilize a 401(k) retirement fund, which is a tax-advantaged fund that will accept the money before taxes, which can save quite a bit over the life of the fund.
About RoadFish.com
RoadFish.com is a popular online men's magazine whose readers are generally men in between the ages of 30 to 45. Some topics covered in recent articles are travel, lifestyle, finance, and tips on advice for dating. RoadFish.com readers tend to be men who have already achieved a moderate level of success in life, and are seeking bigger life goals. RoadFish.com men's lifestyle and finance magazine features articles about men's fashion, luxury items, dating advice, hot chicks, and credit and debt advice. RoadFish.com is owned and operated by Purpose Inc.