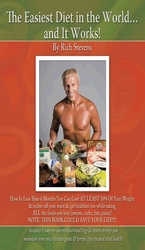 San Diego, CA (Vocus) November 10, 2010
Author Rich Stevens is proud to announce the release of his book The Easiest Diet in the World…And It Works! (published by AuthorHouse). With the desire to lose between five and 15 pounds and shed a few inches from his waistline, Stevens set out on a lifestyle change in 2007 that dramatically altered his weight, appearance and health. Within only four months of switching to a diet composed of organic foods only, Stevens lost 30 pounds, took four inches off his waist and dramatically improved his cholesterol, blood pressure and triglycerides. Astonished by his amazing results, Stevens' friends encouraged him to share his weight-loss method.
"The reason why this diet works and will work for you as much as it worked for me is that it is not really a 'diet.' It is better termed a 'life-style.' And you can eat anything and everything you want: Just as long as you eat that food item in its certified organic form! You will not be missing any foods that you like. I love ice cream and I have ice cream every day…I eat cakes, cookies, candies, pasta, pizza, and potatoes. I eat all kinds of carbohydrates: starches and sugars. I do not keep track of the amount of calories or carbohydrates or fats I eat each day or meal."
In addition to explaining why this method of weight loss works and how people can achieve similar results, Stevens provides advice on where to buy organic foods, how to save money on purchases and what to eat when traveling. He discusses how his program is different than other diets and includes tools such as a progress chart, daily total program chart, weekly meal log, weekly walking log and weekly workout log to assist readers in making this lifestyle change.
Stevens' book will motivate readers to follow his plan – eating only foods free of pesticides, chemical fertilizers, food coloring, genetic modifications, cloning, antibiotics, steroids, hormones, preservatives and additives – to realize their weight loss and personal health goals.
About the Author
Rich Stevens lives in San Diego where he works as an adjunct professor of math at Cuyamaca College in El Cajon, Calif. Stevens is a graduate of The State University of New York at Albany where he earned his bachelor's and master's degrees in math education. Previously, he taught high school math, worked as a radio disc jockey, coached cross country and track and served as a weight training advisor. He was also the public address announcer of the New Jersey Nets for seven years. He has been an avid long-distance runner and directed the Marist College Distance Running Camp for eight years. He has been a proponent of physical fitness and has used many techniques in body development, nutrition, health and fitness. For more information, please visit http://www.theeasiestdiet.com.
AuthorHouse is a premier book publisher for emerging, self-published authors. For more information, please visit http://www.authorhouse.com.
###