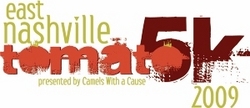 Nashville, TN (PRWEB) July 1, 2009
It's 90 degrees with 100 percent humidity, and the mere thought of stepping outside leaves sweat stains on your shirt. It would be madness to run in this heat.
That's right. It's 'mater madness. As in Tomato 5K madness.
A local herd of do-gooders is inviting everyone to double-knot their running shoes and run around Historic East Nashville during the 4th Annual East Nashville Tomato 5K on Saturday, August 8. It's all part of the Tomato Art Fest, voted "Best Festival" in the 2007 and 2008 Nashville Scene Reader's Polls.
Presented by charity fundraising group Camels with a Cause (CWAC), the Tomato 5K benefits the Margaret Maddox Family YMCA's We Build People campaign. With the funds raised, people who could not otherwise afford a membership with the YMCA have the opportunity to experience everything the organization has to offer.
"The members of Camels with a Cause are excited about helping the Margaret Maddox Family YMCA continue to provide exceptional programs, facilities, and resources to the East Nashville community," said Mark Scrivner, Director of Operations at cj Advertising and Board Member at Margaret Maddox Family YMCA.
Camels, Cardio, and Culture
CWAC's current objective is to recruit at least 1,000 walkers, joggers, and runners to participate in the event. Tomato 5K participants will enjoy a guided foot tour through the heart of Historic East Nashville's neighborhoods as they stride past Victorian-era architecture while burning calories and absorbing local culture. Maybe even picking up some tomato-inspired artwork.
Don't Wait--The Last Runner In Is a Rotten Tomato!
The 4th Annual East Nashville Tomato 5K is on Saturday, August 8, 2009, at East Nashville's Five Points, on the corner of South 11th Street and Woodland Street. The race begins at 7:30 a.m. before the parade of the Tomato Arts Festival. There will also be a Kids' Fun Run for children 8 and under starting at 7 a.m.
A 5K run wouldn't be complete without free t-shirts! All pre-registered runners will receive t-shirts that wick away moisture to help maximize comfort and performance. Free childcare also will be available beginning at 6:30 a.m. in the Y-CAP building at the corner of 11th Street and Russell Street.
Registration for the 4th Annual East Nashville Tomato 5K ends on Thursday, August 6, 2009. Visit http://www.CamelswithaCause.com to enter the race, learn about past events, and view videos and photographs.
Did Someone Say "Camel"?
Camels with a Cause (CWAC) is cj Advertising's conduit of support for various charitable organizations. The project is empowered by a staff of more than 60 at the agency with 100 percent of funds donated to charity.
Since January 2008, CWAC has raised $23,000 for The Leukemia & Lymphoma Society; helped the agency's Director of Web Services launch his own nonprofit, One Love Outreach; collected more than 2,300 items for the Second Harvest Food Bank; and raised $7,400 for the Arthritis Foundation.
About cj Advertising
Established in 1994, cj Advertising has grown to be the largest full-service advertising agency in the country catering exclusively to personal injury lawyers. With a long-term goal to build and represent the top 50 personal injury brands in the country, the agency promises distinctive branding, results-driven creative, and 360-degree marketing to each of its exclusively represented clients. Offering traditional services of media placement and production, cj also completes its clients' marketing plans by offering Web services, public relations, and database mining, as well as yellow pages design, tracking, and management. The Nashville, Tennessee-based agency currently produces advertising campaigns for 37 law firms in 60-plus markets nationwide. Visit http://www.cjadvertising.com for more information.
###