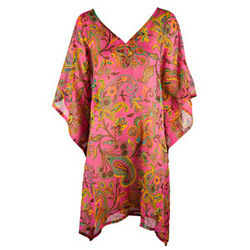 (PRWeb UK) June 11, 2010
EAST Clothing is delighted to launch their new Fiesta Brights Collection on 8th June 2010. Boasting yet another unrivalled selection of wonderfully evocative designs made from luxurious natural fabrics; it is a welcome and exciting addition to the East range this summer.
All the excitement and colour of a Mexican fiesta in represented in this vibrant holiday story.
The palette is a world mix of pigment brights ranging from geranium pink to bright turquoise, poppy, and agave – all grounded to white.
Floral prints are complemented by traditional Mexican embroideries, for a bright, fun resort look.
Styling is often simple with easy to wear kaftans and beach cover ups mixing with gipsy skirts and fun jerseys for a casual, holiday style.
East's floral print kaftan has just been voted 'Best Holiday Buy' by the Yorkshire Post (02/06/2010)
About East
East, designed to be individual. The product was originally designed for women who love individual, natural fabrics, with an ethnic feel. We remain true to these values today. Our products were then and are now heavily influenced by the time honoured traditions of the Far East incorporating, 'hand' crafted embroideries, wonderful evocative prints and vibrant colours to create our distinctive outfits. The collections include soft knitwear for easy layering, beautiful silks and simple linens. Finally, as all our clothes are designed in-house, they are genuinely unique.
Jewellery and accessories are important additions to any outfit; and there is an eclectic collection sourced from all over the world, including Thailand, India and the Philippines. using predominantly natural materials such as wood and shell, and even seed pods.
East supports the Disha charity and hopes to continue to help DISHA touch the lives of more children with special needs who just want the opportunity to live a normal life.
EAST Ltd
55 Kimber Road
London SW18 4NX
TEL: 020 8877 5900 FAX: 020 8877 5901
Customer Services: 020 8877 6543
###