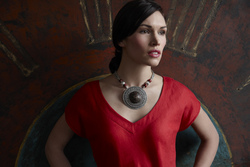 (PRWeb UK) June 10, 2010
EAST Clothing is delighted to launch their new Hacienda High Summer Collection on 4th June 2010. Inspired by the country houses of Mexico. This story takes on the warmth and richness of the natural tones of adobe and stone. These are complimented by highlights of saffron, white and rich turquoise.
This group has an easy casual feel that mixes pattern and colour in a bold and exciting way. Textured linens work alongside graphic geometric prints inspired by Mexican textiles, for a casual layered look.
Colour blocking stripes and dip dyed fabrics also play their part in this bold mix.
The Hacienda High Summer new lines added to the collection complement this wonderful selection with stunning Anokhi block print coral booti pieces, dress, kurta, crinkle skirt, and blouse.
About East:
East, designed to be individual. The product was originally designed for women who love individual, natural fabrics, with an ethnic feel. We remain true to these values today. Our products were then and are now heavily influenced by the time honoured traditions of the Far East incorporating, 'hand' crafted embroideries, wonderful evocative prints and vibrant colours to create our distinctive outfits. The collections include soft knitwear for easy layering, beautiful silks and simple linens. Finally, as all our clothes are designed in-house, they are genuinely unique.
Jewellery and accessories are important additions to any outfit; and there is an eclectic collection sourced from all over the world, including Thailand, India and the Philippines. using predominantly natural materials such as wood and shell, and even seed pods.
East supports the Disha charity and hopes to continue to help DISHA touch the lives of more children with special needs who just want the opportunity to live a normal life.
###