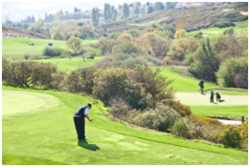 Membership with us is better than ever with rates starting as low as $239 a month
San Ramon, CA (PRWEB) August 09, 2012
The Bridges Golf Club of San Ramon is now offering a crop of added perks with every membership package, including lower rates, special club discounts, all access use of the course, full range access, charging privileges and more.
"Membership with us is better than ever with rates starting as low as $239 a month," said Krystal Ruddy, Sales and Marketing Director of The Bridges. "Our membership program is the best way to experience all The Bridges Golf Club has to offer."
The Bridges Golf Club is now featuring individual, family and senior membership packages. These all-inclusive packages include:

No green fees, cart fees & no initiation fees (with a 12 month contract)
Unlimited access to The Bridges Golf Course (Senior valid Monday-Friday only)
Unlimited access to the driving range putting and chipping greens
30- day advance tee time reservation versus the public 14 day advanced booking
35% Discount off of apparel purchases
20% Discount off shoes, clubs and balls
Reduced member guest fees
Discounted green fees at Eagle Ridge Golf Club in Gilroy
Member rewards program –earn rewards throughout the year on merchandise and food purchases
Charging privileges. No cash on hand? No problem! Have it charged to the account.
Member's only special events
Complimentary banquet room rentals for special occasions.
The Bridges Golf Club offers more than just a picturesque backdrop and an escape from the dreary fog of San Francisco (as if that wasn't enough). The Bridges is a sophisticated, service-oriented, family-friendly community and oasis for golf lovers.
Become a member today! For more information about The Bridges Golf Club and what the renewed membership packages offer, please call Kristal Ruddy at (925) 380-1675 or visit their website at http://www.thebridgesgolf.com.
About The Bridges Golf Course
The Bridges Golf Course in San Ramon is a must-play course for golfers seeking a challenging, risk-reward round of golf. Designed by former U.S. Open Champion Johnny Miller, The Bridges Golf Course is located 35 miles East of San Francisco.
The Bridges hosts charitable East Bay Area golf tournaments, with proceeds benefiting local and national non-profit foundations. The Bridges Golf Course is also home to the best East Bay Area driving range.
The Bridges Golf Club is great for families. Youngsters can tee-off at this premier course, which offers East Bay Area Junior Golf, or join the Junior Club for a discounted rate. In addition to golf, The Bridges is an unforgettable Bay Area wedding venue.