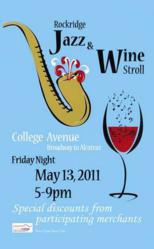 This event really showcases Rockridge's great sense of community.
Oakland, CA (Vocus/PRWEB) May 07, 2011
Rockridge District Association, a Business Improvement District (BID) that works to enhance the East Bay shopping district and community, is hosting its second annual Spring Jazz & Wine on Friday, May 13. Twelve different musical acts will have the crowd grooving down College Avenue between Broadway and Alcatraz from 5 to 9 p.m. Tasty treats (and wine) will be served in many of the shops along the way.
Confirmed local musicians include the Claremont Jazz Band and Berkeley High School Jazz. Rockridge retailers will serve hors d'oeuvres and liquid refreshments, most notably wine, to guests. Itsy Bitsy, a trendy Oakland gift shop, is planning to host a Japanese tea ceremony. Thelma Harris Art Gallery along with Strahan Insurance will host jazz musician, Lloyd Gregory. Market Hall will host Alvon Johnson. Mary D'Orazi is returning this year at Tootsies with her Standard and Brazilian Jazz.
All along College Avenue, places like Stella Carakasi, Diesel Books, Maison d'Etre, FIT, Christensen Heller Gallery, Bosko's Picture Framing, Iniam, Rockridge Furniture and Safeway will be alive with music and good fun.
The goal of the Spring Jazz & Wine Stroll is to bring neighbors and friends together, and remind them that they don't need to go very far to enjoy great shopping and restaurants. Guests are encouraged to enjoy dinner at one of the many fabulous restaurants or grab a nightcap at one of the many watering holes.
"This event really showcases Rockridge's great sense of community," said Chris Jackson, operations manager at Rockridge District Association. "It also is a great chance for new neighbors to come out and meet new people, and checkout all of the great local businesses."
For more information about the Spring Jazz & Wine stroll call Chris Jackson at (510) 604-3125 or visit the Rockridge District Association's website: h http://www.rockridgedistrict.com.
About Rockridge District Association
The Rockridge District Association, a Rockridge Business Improvement District (RBID), is dedicated to enhancing Rockridge through public works as well as promotional and beautification initiatives to make a strong, vibrant, diverse business center.
Rockridge, Oakland's leading district in retail sales, is located along pedestrian-friendly College Avenue. Lined with trees, inviting storefronts, cafes and restaurants, the district combines urban sophistication with a relaxed paced. Rockridge boasts a concentration of eclectic, independently owned retail stores, restaurants and art galleries in the East Bay, which makes it a desirable destination for visitors and neighbors alike.
# # #