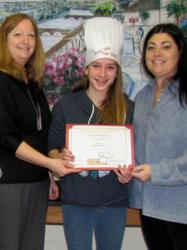 We hope that having the students involved with planning the school menu will prove a successful and fun way to educate them on healthy eating habits
Islandia, NY (PRWEB) March 27, 2012
Childhood obesity is a constant concern for school administrators, parents and members of the school community. Nowadays, nearly one in three children in the United States is overweight or obese. With these numbers on the rise, schools and parents are taking a proactive approach to promoting a healthy lifestyle that will last a lifetime.
As a way to encourage healthy eating choices and reinforce what is learned in the classroom, East Islip School District Nutrition Committee and Diane Sanzano, Whitsons School Nutrition's Food Service Director at East Islip, developed the first Top Chef Awards at East Islip Middle School. In this competition, students designed their own school cafeteria menu, applying the knowledge imparted in Family & Consumer Science Club regarding nutrition and menu planning and integrating the USDA's MyPlate guidelines to their creation. The competition was very challenging for the students because they had to create a wholesome and appetizing meal, that could also be replicated in a school cafeteria setting.
On February 13th, the Nutrition Committee recognized Sarah Powell, a seventh-grader from East Islip Middle School, as the winner of Top Chef East Islip. Ms. Powell was presented with a Top Chef embroidered hat and a Top Chef Certificate. Her menu consisted of whole wheat pasta tossed with broccoli, garlic bread, vegetables or salad as a side, option of fresh fruit and milk. Her delicious creation was included in the school's March menu and was served on March 21st during Nutrition Week.
The first Top Chef Award was so successful that it will be repeated once a month for the remainder of the school year. According to Sue Kavanagh, PTA Council Nutrition Representative, "We hope that having the students involved with planning the school menu will prove a successful and fun way to educate them on healthy eating habits."
About Whitsons School Nutrition:
Whitsons School Nutrition provides a wide range of highly customized dining services to public and private schools, with a strong focus on nutritious, high quality meals made from fresh, wholesome ingredients. Whitsons has a long and proud history of excellence and growth since 1979 and currently ranks the 16th largest dining company in the United States (Food Management magazine, September 2011). In addition to school nutrition, Whitsons' scope of expertise and services extends to: culinary development, residential and healthcare dining, delivered meals, corporate dining, emergency dining and vending services.