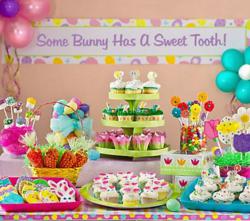 Give in to everyone's sweet tooth with an Easter treats buffet. Infuse the traditional pastel Easter palette with splashes of bright color to create a vibrant spring table display.
Rockaway, NJ (PRWEB) March 12, 2012
With Easter around the corner, Party City's Celebration Experts want families to have an eggs-cellent Easter celebration this Spring. Easter falls on April 8 this year, so families can hop to it with fun activities and budget-friendly party ideas that celebrate the start of Spring. Party City's fresh ideas for throwing memorable Easter parties offer easy ways to make any Easter celebration egg-stra special.
DRESS UP EASTER EGGS
Use an egg coloring kit to create a vivid base color and then add candy polka dots and strips of thin ribbon to create a bold 3-D effect. Egg decorating kits are also perfect for adding embellishments in a flash or creating fancy tie dye designs, marble effects or dinosaur eggs. Or, for a fabulously chic look, dust eggs with sparkly glitter glue and fasten with a delicate small bow.
EVERY BUNNY HAS A SWEET TOOTH
Give in to everyone's sweet tooth with an Easter treats buffet. Create a vibrant tablescape by infusing the classic pastel palette with splashes of bright and colorful spring table decorations. Fill glass candy jars with an assortment of colored candies and then top with Peeps. Adorn the table with cute containers in cheery spring color filled with green "grass" and bouquets of beautiful cake pops or cookie pops in Easter motifs. Use Pink Petal Baking Cups to create cupcakes that look like blooming flowers to wow guests and keep them coming back for more.
RABBIT RUN EASTER EGG HUNT
The highlight of any Easter celebration is the traditional Easter egg hunt. This year, take this family favorite one step further with a customized "Rabbit Run" banner from Party City's personalization studio to mark the starting point of the race to find the most eggs. Scatter extra Easter prizes, including small Easter favors, stickers, plush bunnies and chicks along the path for surprising fun finds.
CAPTURE EASTER HOPPENINGS
Make the event's special memories last even longer by designating someone to take pictures of the egg hunt, Easter basket reveal and other fun activities. Easter pictures are a strong tradition for most families, and parents can make photos even cuter by handing out Easter bunny costumes and wearable Easter favors, like bunny ears and butterfly wings, to younger guests to wear at the celebration.
TAILORED EASTER BASKETS
Family and friends never need to leave the party empty-handed with tailored Easter baskets given out as party favors. Along with colorful candy-filled eggs and Easter favors, add personal touches like a customized note card in each basket. Remember to send guests off with some Easter treats as well. Party City's favorite Easter favor idea is very easy: fill Carrot Treat Bags with orange candy and tie the top with a green ribbon to complement a spring fresh theme.
Easter-related purchases continue to climb with consumers spending on average $131.04 in 2011, according to the National Retail Federations. With thousands of party supplies and a large assortment of festive Easter decorations, baskets, egg decorating kits, tableware and craft accessories, Party City can help families stay within their budget and celebrate an "eggstra" special Easter. Party City is a one-stop shop with nearly 800 store locations and an incredible online selection at PartyCity.com. Plus, the Party Ideas Center on PartyCity.com makes it easy to throw an Easter party with detailed photo galleries showing Easter ideas to make any Easter celebration a hoppy affair!
For clever tips and more information on great party ideas and party supplies, visit PartyCity.com or a local Party City store.
ABOUT PARTY CITY
Party City Holdings Inc. designs, manufactures, contracts for manufacture and distributes party goods, including paper and plastic tableware, metallic balloons, accessories, novelties, gifts and stationery. Party City Holdings Inc. also operates retail party goods and social expressions supply stores in the North America under the names Party City, Halloween City, Factory Card & Party Outlet and Party Packagers. Party City is North America's largest party goods chain and the premier retailer of Halloween costumes, theme party supplies, birthday decorations and other specialty party supplies.