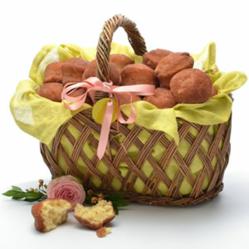 ...truly delicious morsels or a carefree Easter morning...
Salt Lake City, UT (PRWEB) March 28, 2012
Enthusiasm surrounding the Hawthorne & Wren Easter Basket with Doughnut Muffins may signal a new trend in Easter celebrations for 2012. The Easter basket capturing the attention of online shoppers was introduced quietly as part of the H&W Easter gift lineup. It is featured prominently on Oprah's blog in an article titled "5 Easter Treats that Aren't Chocolate Bunnies" which describes these Doughnut Muffins as "cinnamon-sugar bombs."
These 20 "cinnamon-donut bombs" are shipped overnight (free shipping) in an elegant french-inspired basket lined with a green linen napkin. The H&W Doughnut Muffins may be ordered in advance of Easter and kept frozen until Easter morning. Preparation is as simple as thawing for one hour prior to baking.
Candace Frioux, Hawthorne & Wren's creative director who selected these Muffins as part of the Easter gift line describes them as "truly delicious morsels for a carefree Easter morning." As an Easter treat, "it was important for us to pare the beautiful texture and flavor of these doughnut muffins with an equally beautiful presentation. The basket that accompanies these doughnut muffins will be enjoyed throughout the year," emphasized Frioux.
For those who must absolutely must have chocolate for Easter, the H&W Easter lineup offers a variety of exclusive gifts and Easter baskets for chocolate lovers.
About Hawthorne & Wren
Hawthorne & Wren offers a full line of Haute gifts for year round celebrations. Hawthorne & Wren specializes in providing unique and meaningful gifts that inspire all to give "gifts with meaning." The H&W collection of over 200 gifts are carefully selected and offered with a well-crafted meaning of what each gift represents. For more information visit http://hawthorneandwren.com or call 801-272-8003.