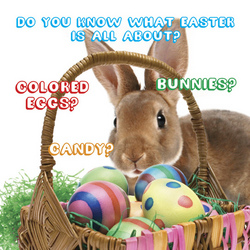 Wow, this is so exciting! What a find! God bless you for your creativity and how you are using that to glorify and honor our Lord!!!
High Point, NC (PRWEB) March 17, 2009
As companies across America seek to increase sales they are tying their products in with Easter. Even Christmas, which celebrates the birth of Jesus, has become more about Santa Claus and spending money. The Easter message is also being watered down as more companies link their products to the Easter bunny.
Memory Cross has developed two cards that help convey the life-changing Easter message. The first one is a tract that talks about the true meaning of Easter. It starts by asking, do you know what Easter is all about? Then it goes on to explain that Easter is about God loving us so much that He came to earth and died for us, so that we can have a relationship with Him.
Pastor Andy Lambert, president of Memory Cross, along with his staff wanted to use the unique Memory Cross design to create a card that children love and shared the Easter story in a simple manner. Children are fascinated by this card says Andy Lambert. When they get it in their hand they simply cannot put it down, and they read the message over and over again.
For people wanting to know more about this new life in Christ, Memory Cross has partnered with Need Him, which is a non-denominational ministry that provides answers about becoming a Christian via their website and 800 number.
Here is a recent comment that we received: "Wow, this is so exciting! What a find! God bless you for your creativity and how you are using that to glorify and honor our Lord!!!"
Memory Cross cards are being used mostly by churches for their children's Easter crafts and by pastors for their Easter sermons, but people have also bought them simply to share the Gospel.
Memory Cross has also developed an Easter coloring card available in English and Spanish. The Easter coloring card covers the last week of Jesus' life, from Palm Sunday to his death and resurrection. It is a great way to help children learn the Easter story says Andy Lambert. Using the coloring card as an Easter craft usually takes 20 minutes, so it makes a good craft project for Sunday school classes and Easter egg hunts.
The Jesus Lives coloring card, also available in English and Spanish continues the story from Jesus' resurrection to His ascension. These cards are offered on our website year-round, not just during the Easter season.
We are excited to be able to offer this resource to the churches, says Andy. Memory Cross was started four years ago when Andy was looking for a creative way to teach kids Bible verses. The vision has grown beyond what Andy or anyone else originally dreamed.
Memory Cross cards have been used by people and churches all over the world to help children memorize scriptures and share the Gospel. Organizations such as LifeWay, The Billy Graham Evangelistic Association, The Amercian Tract Society and Cokesbury have designed their own cards using the Memory Cross design to share the Gospel along with churches such as Mosaic in Los Angeles and Planetshakers in Australia.
For more information please visit Memory Cross at http://www.memorycross.com.
###