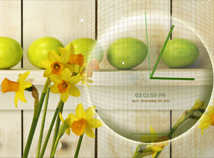 London, UK (Vocus/PRWEB) April 20, 2011
NewFreeScreensavers.com, a website dedicated to safe and free screensavers, specially for Easter has opened a separate screensavers category, featuring spring, flowers, butterflies, bunnies and of course colorful eggs.
Easter is one of the holiest Christian occasions. It has a lot of beautiful customs and traditions which bring joy and happiness on this holy day. Thus Easter provides many people with an opportunity for decoration of their homes. Newfreescreensavers.com offers to get into the Easter mood with free attractive Easter screensavers, for example:
nfsKhokhlomaEgg free screensaver features a rotating egg decorated in a Russian wood painting handicraft style, known for its vivid flower patterns, red and gold colors over the black background;
nfsEaster1 free screensaver featuring not only flowers and colored eggs, but also a round analog clock;
nfsCrazyFarm, free animated screensaver dedicated to Easter, will be to children's liking. It features funny moving farm animals (a cow, cock and eggs) and has a loud music background, which can be muted.
All free Easter screensavers at NewFreeScreensavers.com are safe to install and run and will work on any version of Windows from XP to Windows. The downloads are typically small, and take only moments to install, you can start using them right away with minimal hassle.
Wishing you a very Happy Easter!
COMPANY:
NewFreeScreensavers.com offers a collection of completely free screensavers and features a blog with a tips and tricks section about screensavers and screensaver reviews.
# # #