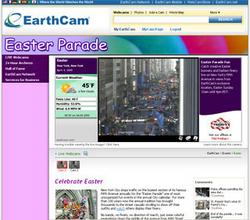 New York, NY (Vocus) April 10, 2009
EarthCam (http://www.earthcam.com), the Internet's premier global webcam network, will webcast Fifth Avenue's Annual Easter Parade Easter Sunday, April 22, from a location near St. Patrick's Cathedral (http://www.earthcam.com/events/easter/2009).
The streaming video camera, located one block south of the cathedral, will inaugurate EarthCam's first web coverage of the spring tradition in which strollers casually show off their spring fashion and creativity with unique bonnets and outfits. The event is scheduled from 10am-4pm ET.
After the event the camera will continue to offer 24/7 live views of Fifth Avenue from the unique EarthCam vantage point above the famous avenue including daily activities, major parades and traditional events and throughout the year.
EarthCam.com is the leading network of live webcams from around the world and delivers millions of images daily to more than 200,000 unique visitors. EarthCam also provides complete infrastructure services to manage, host and maintain live streaming private, password-protected video camera systems for its corporate clients. Clients include Panasonic, NASA, Pfizer, PBS, Sprint, Chevrolet, Yahoo!, Disney, Coca-Cola, This Old House, Toshiba, Hawaiian Tropic, Toyota, Anheuser-Busch, the Seattle Space Needle, and Prudential, among others. As the foremost provider of live images on the Internet, EarthCam webcasts premier events such as international concerts, the Emmy and Grammy Awards, Miss Hawaiian Tropic pageants, Mardi Gras, NFL Super Bowls, and New Year's Eve in Times Square.
Visit EarthCam at http://www.earthcam.com.
Contact:
Justin Camerlengo
EarthCam, Inc.
201-488-1111
# # #