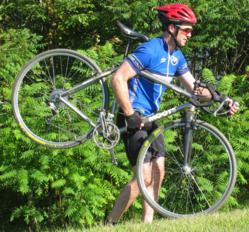 We were immediately intrigued by Muscle Angels® massagers, as they are designed for athletes who need quick, easy, and effective relief from muscle pain." Marc DeBanico. EMS
Boston, MA (PRWEB) April 03, 2012
Performance improvement; it's what all athletes want and Muscle Angels® hand-held massager delivers. Muscle Angels® massagers are the first product of its type to combine myofascial trigger point, acupressure, and deep tissue massage in an all-in-one massage device. It has also been recognized by fitness directors, personal trainers, and physical therapists for its therapeutic benefits, ease-of-use, and portability. Now, adventure sports enthusiasts who suffer from chronic muscle pain will also be able to reap the benefits. Whether a serious field sports athlete, dancer, cyclist, triathlete, or marathon runner, or a weekend warrior who likes to climb mountains, Muscle Angels ensures you remain active and enjoying your sport(s) of choice.
Marc DeBanico, buyer at EMS, was quick to recognize Muscle Angels'® unique preventative and therapeutic capabilities and is pleased to include Muscle Angels® as part of its "Flexibility and Recovery" category.
"This new Wellness category is our way of introducing innovative products to our most active customers," Mark explains. "Our goal is to help these sports enthusiasts remain active and continue to perform at their best. We were immediately intrigued by the Muscle Angels® massager, as it is designed for the athlete who needs quick, easy, and effective relief from muscle pain." He continues, "I especially like how the product fits easily in a backpack or gym bag—making it the perfect "on the go," all-in-one recovery tool."
Susan Z. Robins, president and founder of Muscle Angels®, is delighted by the affiliation with EMS. "It's the perfect partnership. The new "Flexibility and Recovery" category aims to offer EMS customers the very best therapeutic tools so they can maintain active lifestyles and Muscle Angels® patented design delivers maximum therapeutic relief, in one complete package—making it the most versatile product on the market, today." Robins continues, "Nothing makes me happier than knowing our product is going to help EMS customers continue to enjoy their sport(s) of
choice".
Muscle Angels® offers a unique "hands-free" option for people with bilateral hand and arm pain and the Stability Sleeve add-on product enables users to access the hard-to-reach muscles—without assistance. For more details, please review the Instructional Videos on the website: http://www.MuscleAngelMassagers.com/Videos.
###
About Muscle Angels®, a Norbis Innovations Company, LLC.
MuscleAngelMassagers.com
Muscle Angels®, a Norbis Innovations Company, was formed in July 2009 with the VISION of helping improve the quality of life for people (and now, pets) who suffer from muscle pain and tension.
Muscle Angels® patented massagers are both preventative and therapeutic. Results are achieved by combining the benefits of Myofascial Trigger Point, Acupressure, and Deep Tissue Massage—in an all-in-one, easy-to-use, product. They are the only massagers of their type that offer a hands-free option for people with bilateral hand and arm pain, as well as an add-on product that enables users to access hard-to-reach muscles—without assistance.
Muscle Angels® massagers are sold in physical and massage therapy practices, running stores, resorts and spas, and online distributors and retailers. See website for more testimonials, and to view the short instructional videos.
About Eastern Mountain Sports (EMS)
http://www.ems.com
Founded in 1967 by two New England rock climbers and based in Peterborough, N.H., Eastern Mountain Sports is one of the nation's leading outfitters of outdoor gear, clothing, footwear and accessories with 67 retail stores in 12 states. Eastern Mountain Sports designs and sells products for outdoor adventurers who participate in a variety of sports, such as mountaineering, backpacking, camping, hiking, adventure racing, climbing, kayaking, mountain biking and snow sports. Eastern Mountain Sports product and technology is tested by its product development and quality assurance teams in conjunction with the Eastern Mountain Sports Climbing, Kayaking and Ski Schools.