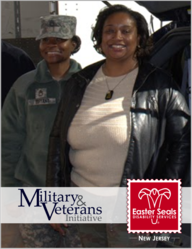 One thing I've learned from my experience serving in the military is that veterans don't come home from war; they come home with war
East Brunswick, NJ (PRWEB) June 20, 2013
Easter Seals New Jersey has launched a new Military & Veterans Initiative to assist female veterans and their families with the challenges they face when returning from combat zones. By conducting a focused study to explore gender-based disparities, the initiative aims to enlighten, engage and empower these women to reach their full potential in their communities.
According to the Department of Veteran Affairs, in New Jersey alone, approximately 33,000 female veterans return home to a typically unexpected set of struggles after serving in the U.S. Armed Forces. Women represent the fastest growing veteran population, comprising nearly 15 percent of the military; a number that is expected to double by 2021. Currently available tools and programs are still largely male-centered and typically fail to address the unique needs of women veterans. Easter Seals New Jersey's Military & Veterans Initiative will identify resources available to this female population.
"One thing I've learned from my experience serving in the military is that veterans don't come home from war; they come home with war," says Felicia Davis, assistant vice president of Easter Seals New Jersey's new Military & Veterans Initiative. "Our efforts will identify and raise awareness of the challenges faced by existing women veterans, like those presently returning from Iraq and Afghanistan. Our goal is to create an action plan for addressing their specific needs."
The new female veterans' initiative will explore key issues, including chronic unemployment, physical, mental and emotional trauma, addictive behaviors, homelessness, family tension, social isolation, coping mechanisms and criminal activities.
A leader in advocacy for underserved populations, Easter Seals New Jersey intends to build on existing data and target female demographics by partnering with other established organizations of care. Easter Seals New Jersey is aligning itself with such industry experts to identify military-friendly organizations that desire military proficiencies in logistics, healthcare and STEM disciplines such as JPMorgan Chase, Cintas, Ryder, and UMDNJ, to create opportunities for veteran job seekers.
This program is in partnership with Easter Seals, Inc. and the Dixon Center for Military and Veterans Community Services. The initiative's first official focused study will convene at Easter Seals New Jersey's administrative offices in August 2013. For more information on Easter Seals New Jersey's Military & Veterans Initiative, please visit eastersealsnj.org or contact Felicia Davis by calling 732-257-6662 x351 or emailing fdavis(at)nj(dot)easterseals(dot)com
About Easter Seals New Jersey
The mission of Easter Seals New Jersey is to help individuals and families with disabilities or special needs to live, learn, work and play in their communities with equality, dignity and independence. A leading non-profit provider of comprehensive services for individuals with developmental disabilities including autism, physical disabilities, mental illness and other special needs, our services have been geared toward helping individuals remove obstacles along their path toward independence and full community-integration since 1948.
Easter Seals is committed to creating solutions and providing programs that produce tangible results in the lives of thousands of families in New Jersey. For more information on Easter Seals New Jersey and its statewide disability services, please contact us at 732/257-6662, or visit online at eastersealsnj.org or facebook.com/eastersealsnj.