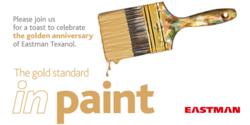 We're always looking for ways to collaborate and innovate with our customers to deliver practical results.
Kingsport, TN (PRWEB) May 08, 2012
Eastman Chemical Company will exhibit at the American Coatings SHOW 2012 to be held in Indianapolis, May 8-10. Booth #1917 will feature products from Eastman's coatings, adhesives, specialty polymers and inks (CASPI) business segment, including additives for the transportation, industrial, and architectural markets, and showcase the ACS debut of Eastman Optifilm™ additive OT1200.
Visitors to Eastman's booth can also learn about Eastman's latest achievement: being honored as a 2012 ENERGY STAR® Partner of the Year. Eastman is one of only two chemical companies to ever earn the distinction.
In addition, the company is celebrating the golden anniversary of Eastman Texanol™ ester alcohol, the flagship coalescent introduced in 1962. Customers and other attendees will be invited to join the Eastman team for a toast and festivities themed "The Gold Standard In Paint."
Eastman's CASPI segment manufactures products that are integral to the production of paints and coatings, inks, adhesives, and other formulated products. Products highlighted at ACS include:

Eastman Optifilm™ additives for low VOC paints — including Eastman Optifilm™ 400 coalescent and the new Eastman Optifilm™ additive OT1200, a low-VOC alternative that significantly improves workability of paint by increasing open time, and ensures easy application, a great finish, and easier clean-up across a broad range of environmental conditions. This is the first ACS to feature Optifilm OT1200, which was introduced in 2011.
Eastman Solus™ performance additives — high-performance, VOC-compliant additives for high-solids solventborne and waterborne coatings; sustainable solutions derived from natural and renewable cellulose, helping ensure brighter colors, smoother finishes, and improved gloss
A broad portfolio of Eastman™ performance solvents, featuring Eastman™ MAK (methyl n-amyl ketone) and Eastman™ MIAK (methyl isoamyl ketone) — lower density, high-performance solvents that improve flow and leveling, delivering a smoother, glossier finish
Eastman™ adhesion promoters for waterborne and solventborne coatings systems — a product line that ensures adhesion to low surface energy substrates like TPO, polyethylene and polypropylene
Eastman™ resin intermediates — featuring Eastman™ AAEM (acetoacetoxyethyl methacrylate) acrylic monomer, Eastman™ TMPD glycol, Eastman™ CHDM glycol, and Eastman™ CHDA acid— products that offer better performance through properties like chemical resistance, hardness and flexibility
"We are very proud of our business and the opportunity to exhibit at this year's ACS, especially in light of the 50th anniversary of Texanol and our recent ENERGY STAR award," says Dirk DiSantis, regional industry manager, coatings and OEM. "And we're very excited about the launch of Optifilm OT1200, our newest additive for architectural coatings. Our products help improve performance and aesthetics in a variety of coatings and other formulated products. And we're striving to deliver those benefits in a sustainable way. Eastman remains dedicated to the coatings industry. We're always looking for ways to collaborate and innovate with our customers to deliver practical results to the challenges they encounter in a continually evolving global marketplace."
About Eastman
Eastman's chemicals, fibers and plastics are used as key ingredients in products that people use every day. Approximately 10,000 Eastman employees around the world blend technical expertise and innovation to deliver practical solutions. The company is committed to finding sustainable business opportunities within the diverse markets and geographies it serves. A global company headquartered in Kingsport, Tennessee, USA, Eastman had 2011 sales of $7.2 billion. For more information, visit http://www.eastman.com.