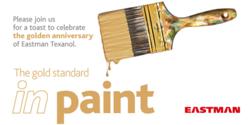 "Texanol essentially set the bar for making latex paint more efficient in real-world applications."
Kingsport, Tenn. (PRWEB) April 27, 2012
The year was 1962. Gas was 28 cents per gallon. A first-class stamp was four cents. Americans first orbited the planet. And art lovers in Los Angeles gathered around the premiere of Andy Warhol's iconic soup can paintings. But in 1962, the bigger news for paint may have been in Texas, where 2,2,4-trimethyl-1,3-pentanediol monoisobutyrate was discovered to be a revolutionary coalescent for latex paint. Today, that coalescent is called Eastman Texanol™ ester alcohol.
With a kick-off event at The American Coatings SHOW in Indianapolis in May and throughout 2012, Eastman is celebrating Texanol's golden anniversary.
"For 50 years, we have been proud to work with some of the best names in the paint industry," says Eastman business director Charlie Giaudrone. "Our coalescents have helped paint perform better in a variety of ways. Texanol essentially set the bar for making latex paint more efficient in real-world applications. You could say our coalescents have been the gold standard inside paint for the gold standards in paint."
As a coalescent for latex, Texanol improves paint performance through better film integrity, weather resistance, scrub resistance, and durability. Coalescents work by temporarily softening polymer particles, allowing them to fuse into a continuous film and form a hard surface as the coalescent evaporates. Because they demonstrate optimum evaporation rates — when compared to water-soluble solvents — coalescing aids remain preferred alternatives for improving paint performance.
In 1962, the latex paint industry was in its infancy. "For Texanol, the timing couldn't have been better," says David Crouch, superintendent of Eastman's Texas Operations. "The industry was transitioning from oil-based paints to water-based paints in do-it-yourself applications; and paint formulators quickly recognized the superior performance of the product. Thus, Texanol grew with the technology, becoming the standard worldwide."
Through its success, Texanol served as the flagship product that led to a whole new generation of coalescents. And with the golden jubilee of Texanol, Eastman also celebrates its long-standing involvement in the paint industry. Today, the company also offers a variety of Eastman Optifilm™ additives for low-VOC paint to address the market's changing needs.
"Manufacturers and markets looking for low-VOC solutions can rely on Eastman to deliver products that excel in performance," says Giaudrone. "We look forward to working with our paint customers for the next 50 years and beyond, continuing to bring innovation and performance to the paint industry."
About Texanol
Eastman Texanol™ ester alcohol is the premier coalescent for latex paints. It performs well in all types of latex paints, in a variety of weather conditions, and over substrates with different levels of porosity. Texanol provides the highest level of film integrity at low levels of coalescent, enhancing the performance properties of the paint including low temperature coalescence, touch-up, scrub resistance, washability, color development, thermal flexibility, and resistance to mudcracking. It also enhances thickening efficiency when used with associative thickeners.
Its key attributes include ease of use, efficient coalescence, excellent hydrolytic stability, low flammability rating, low freezing point, and low water solubility.
Due to its non-VOC status, low toxicity, and biodegradability, Texanol has been awarded the Green Label Type II certificate in China by the China Environmental United Certification Co. Ltd. (CEC), a wholly owned subsidiary of the State Environmental Protection Administration of China (SEPA). For more information, visit http://www.eastman.com/tex50.
About Eastman
Eastman's chemicals, fibers, and plastics are used as key ingredients in products that people use every day. Approximately 10,000 Eastman employees around the world blend technical expertise and innovation to deliver practical solutions. The company is committed to finding sustainable business opportunities within diverse markets and geographies it serves. A global company headquartered in Kingsport, Tennessee, USA, Eastman had 2011 sales of $7.2 billion. The company offers several products used for paint additives, including Eastman Texanol™ ester alcohol, Eastman Optifilm™ Enhancer 300, Eastman Optifilm™ Enhancer 400, and Eastman Optifilm™ Additive OT1200. For more information, visit http://www.eastman.com.