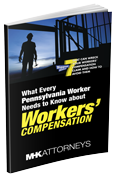 It pays to know the Easton workers comp laws and your wallet will thank you.
Easton, PA (PRWEB) September 07, 2012
Noticing a large misunderstanding of Easton work injury laws, MHK Attorneys have divulged some very interesting information of how the PA Workers' Compensation Act affects the labor industry. In a recent interview, Attorney Michael B. Kaspszyk was asked the following:
Interviewer: "So, what exactly is Workers' Compensation?"
Attorney Kaspsyzk: "Easton Workers' Comp laws may differ from the laws and statutes in other states so it is vital to get the appropriate information. Workers' Compensation is a benefit that is provided to an employee by an employer when the employee is injured while at work, develops a job-related illness, or aggravates a preexisting condition through their job responsibilities. In PA, Workers' Compensation laws mandate that employers provide coverage for their employees. Workers' Compensation insurance may be obtained from a private insurance carrier, the employer may choose to self-insure, or coverage may be obtained through a state fund. If an employer fails to provide for their legal duty to cover Workers' Compensation claims, an injured employee may be covered under a state fund."
Interviewer: "That's very helpful. What kinds of expenses or benefits are covered under the PA Workers' Compensation Act?"
Attorney Kaspszyk: "Workers' Compensation provides medical expenses, wage loss benefits, death benefits, and even specific loss awards for disfigurement or amputation. These benefits are provided as full remuneration for the work-related injury or illness and precludes an employee from filing a lawsuit against their employer. Easton workers' compensation laws do not provide any benefit for injuries or illnesses that are unrelated to the work environment.
Also, an employee may be eligible for compensation even if they are at fault for their injury, provided that it was not intentionally self-inflicted and they were not in violation of any laws at the time of the accident. During the period of recovery, an employer may offer different job responsibilities; please note that if their doctor approves the responsibilities and they refuse to return to work, compensation coverage may be revoked."
Interviewer: "That is pretty interesting, and very good to have in mind. What would a worker need to do to receive Compensation?"
Attorney Kaspszyk: "First, the worker should immediately report any illness or injury on the job to their supervisor. Waiting to notify the employer could cause a reduction in benefits or keep the worker from receiving any benefit at all. Second, they should see a doctor and let them know that they were hurt at work. Some employers may require employees to see a company doctor for their initial visit. Third, make sure to follow the doctor's orders! Workers' Compensation insurance providers may be able to hire a private investigator to determine if their injury is truly affecting their day-to-day activities and they don't want to be caught disobeying doctor's orders and potentially losing benefits. Finally, if their initial claim is denied or is only approved for partial payment, they should be sure to see an attorney and file an appeal. It pays to know the Easton workers comp laws."