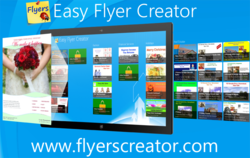 On Windows 8 and Windows RT Easy Flyer Creator is the best productivity app, that lets you design flyers, brochures and other marketing docs from built-in templates. Simply the best publisher app for small and medium businesses.
Peridot Technologies New York (PRWEB) April 19, 2013
Announced the release of Easy Flyer Creator (Windows Store App). The most anticipated Windows 8 publisher app that comes with couple of business flyer templates, brochure templates, posters, signs, certificates, event flyers, custom flyers, custom brochures and many more free templates can be downloaded from its online templates marketplace.
Easy Flyer Creator 4 is one of the most advanced and professional publishing application on Windows 8 for making business flyers, leaflets, brochures, posters, signs, invitations, cards, certificates, coupons, tickets and similar marketing documents from built-in and online customizable templates. Developed and optimized using state of the art technologies to support running on various Windows 8 platforms and hardware like Desktop Computers, Laptops, Ultrabooks, Tablets and similar Multi-Touch enabled Devices with Windows 8 or Windows RT.
Easy Flyer Creator 4 may be one of the most useful Windows 8 publishing app for new Windows 8 users and small business owners, requiring only basic computer skills. With this easy to use publisher app users simply select a template from its professional and eye-catching flyer templates library (may select built-in templates or download from Online Templates Store). Then replace images and update text in the document and finally print or save the flyer. That's how easy it is to make flyers with this publishing app.
For advanced computer users such as professional publishers and graphics designers, this publishing app offers some advanced publishing and designing options like image editing (by sharing with external photo editor apps), image masking, page backgrounds, customizing templates, adding maps and barcodes including QR Codes and Microsoft Tags and much more.
What's New in Easy Flyer Creator 4:

Built-in Flyers, Brochures, Posters and Certificates Templates
Option to download additional templates and designs from its Online Templates Marketplace
Works on All Windows 8 Devices including Windows RT
Add Barcode, QR Code or Microsoft Tags to the Document
Add maps to the document
Capture Live Image from built In Camera
Share Images with external image editing apps to Crop/Edit/Enhance Images and share them back to Easy Flyer Creator
Image Masking Effects
Save document as various formats like JPG, PNG, TIFF, BMP, FLY(Customizable Template Files)
Utilization of Touch, Location, Gyroscope and various other device sensors to make publishing faster and easier
Customers experiences with Easy Flyer Creator 3.0:
"Great program, easy to use and you don't have to be a rocket scientist to figure it out. Program does what it says it does and you can save your work in any format you can possibly use. I do real estate and this program has already paid for itself." -- Charles Ammacher (North Carolina Dream Land LLC)
"This software is a breeze to use. It gives you terrific flexibility and professional results quickly. Customer service has been prompt, generous and very helpful. Highly recommend it." -- Dr. Jim Goldstein (Powerful Partnerships)
"This is a professional flyer maker. We already have seen a better response to the flashy flyers were able to create on our own. Before this we spent a ton of money to pay Photoshop savvy overcharging people. Or used word which obviously sucks. We are a nonprofit so we need people to get excited and want to do see service. A good flyer will generate that! Thank you! Peridot Technologies" -- Ben Schwelling
"I am extremely impressed with Easy Flyer Creator. It is just as they say easy as 1-2-3 but as good as the program is I have to make a mention of the After Sales Support. It is the best I have ever come across and nothing is too much for them. I am totally impressed by your work Peridot Technologies" - Christopher Valladares
"With over 300,000 user base of Easy Flyer Creator 3.0, we are expecting to get over a million downloads of Easy Flyer Creator 4 from Windows Store by the end of 2013, and hope to receive 1000s of reviews and complement for this newly released and the only Windows 8 Publisher app" –- Omar Barlas (Managing Director Peridot Technologies)
Any user with Windows 8 can download Easy Flyer Creator App from Windows Store, but with the free edition user always see Sponsored Ads on each of the Flyer or Brochure printout, To remove those Sponsors Ads user may buy license number from flyerscreator.com to register the app which will remove ads or overlay messages from all of the templates.
For limited time Easy Flyer Creator 4 license price is set to US$4.99 (Regular $39.99 that's like 85% OFF the retail price) plus user get license number to download and register Easy Flyer Creator desktop versions also.
All Easy Flyer Creator's old version users may get the License Key to upgrade for free by signing up at https://docs.google.com/forms/d/1YPYG-2a8heIAMEPu0TRmq9vemsvDeN-gTh0-d0bxVuM/viewform
Peridot Technologies also announced the launch of Templates Sponsorship program under which any business looking to put sponsored ads on any of the built-in templates or online templates will be able to showcase their products and services to the millions of Easy Flyer Creator and TemplatesMarketplace.net users. More details and price quotes on Sponsored Program can be obtained by writing to sales(at)peridotec(dot)com
TemplatesMarketplace.NET (Online Templates Store) portal will be launched later this year which will give options to publishers and designers to share, sell and buy templates of Easy Flyer Creator and other similar publishing apps. But for now Easy Flyer Creator 4 is able to download couple of free templates from the application screens
To learn more about Easy Flyer Creator 4 please see video presentations at http://www.flyerscreator.com/FlyerVideos.aspx or http://www.youtube.com/peridotec
Easy Flyer Creator will also be showcased in couple of the New York City Expos and events in April, May, and June 2013, please visit Easy Flyer Creator Booths and meet our team and executives for detailed demos, info on templates sponsorship programs, partner programs and investor relations.

NY Tech Day 2013, April 25th at Pier 92 NYC, Signup at NYTechDay.com site
InternetWeek NY, May 20-23 at Metropolitan Pavilion | 125 W 18th St. NYC, Signup at InternetWeekNY.com
CE Week NY 2013, June 24-28 at Metropolitan Pavilion & Altman Bldg. | 125 W 18th St. NYC, Signup at CEWeekNY.com
For details on Easy Flyer Creator exhibits, live demos and events participation's follow us on our facebook, twitter, Google Plus, or LinkedIn
About Peridot Technologies NY Inc.
A leading software development company, providing software solutions in various fields and industry. Working on the model of offshore software development with local presence, which ensures less project cost and in best possible quality.
More about our company at http://www.peridotec.com