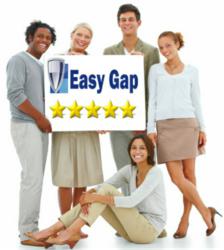 New Easy Gap website provides cover underwritten by Ageas Insurance
Wirral, UK (PRWEB UK) 24 November 2012
Leading Gap Insurance provider Easy Gap, today launched a new web facility for UK consumers. The new Easy Gap website Gap Insurance policies with new product features and with the added peace of mind of being underwritten by one of the biggest names in the UK.
The new Easy Gap site provides, the brand believes, a combination of policy features and underwriter that makes it unique in the UK market. An Easy Gap spokesperson explained what consumers can expect from the new facility.
"We are extremely please to announce the new Easy Gap website has been launched today. Easy Gap has a brand new look, new logo and a huge amount of new features and information for UK consumers. Easy Gap also has become slicker and provides a much better user experience we hope.
The new Easy Gap product range has been 'slimmed down' but allow all standard products to be purchased for cars, vans, motor homes, motorbikes, taxi's and driving schools. We also allow cover for any vehicle listed in Glass' Guide, with no excluded manufacturers.
To incorporate what our brand believes are requirements for the modern motorist, the Easy Gap policy features now included free transfer of unused policy premium, and this is a written policy term and not a broker promise that may require a new policy purchase. We also can provide deferred start dates if the consumer has replacement cover on their motor insurance already. We can also provide up to 5 year Return to Invoice and Vehicle Replacement Insurance for those looking for extended cover."
The Easy Gap brand has made one other important change to the policy terms also, one which may instill a higher level of confidence consumers considering online Gap Insurance.
"The new Easy Gap policies are underwritten by Ageas Insurance, one of the largest and best known insurers in the UK today. Ageas underwrites nearly £2,000 million of insurance premiums in the UK each year. Indeed there is every chance that Easy Gap customers have a motor or household policy underwitten by Ageas already" the Easy Gap spokeperson confirmed.
One final change sees all new Easy Gap claims administration to be handled by MotorWay Direct PLC, although this is not an unfamiliar situation as the Easy Gap spokesperson explained.
"All new Easy Gap policy claims will be handled by MotorWay Direct PLC at their Sheffield base. This is simply an extension of our arrangement we have with this specialist firm for our sister GapInsurance123 brand. In the event of a claim we need to know that any Easy Gap customer will be treated professionally and efficiently, and MotorWay Direct perform that function perfectly in our experience."
"We believe the combination of a huge insurance underwriter and new policy features perfect for the modern motorist, will provide Easy Gap customers with a product unmatched in the UK today."
Easy Gap are one of the leading independent Gap Insurance providers in the UK, and were featured in the Which report on Gap Insurance in 2012.