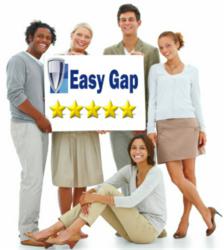 New Easy Gap products can now cover the cost of Paint Protection
Wirral, UK (PRWEB UK) 9 December 2012
Leading Insurance brand Easy Gap have released new information and guidance on improved product features designed to give greater financial protection to UK car buyers.
Easy Gap, who were heavily featured in the Which Report into Gap Insurance in the UK in 2012, have had a busy year, and in particular the last month, with the relaunch of the Easy Gap website, featuring new products underwritten by insurance giant Ageas Insurance. The new products have been significantly upgraded from the previous policies, and Easy Gap have sought to provide guidance on some of the enhanced features. Director of Aequitas Automotive, Mark Griffiths, explained the new features and what they could mean for UK consumers.
"The new Easy Gap product range is now underwritten by one of the biggest names in UK Insurance, in Ageas Insurance. This has provided us with scope to improve our product features in conjunction with our product providers.
Of course, with any product it is important to move with the times. The Easy Gap senior management team all come from a motor trade background, and therefore would like to think would understand the process of buying a vehicle in the UK today. This process now included purchasing a range of products from the dealer, designed to protect both the appearance of your vehicle and the consumers finances.
Insurance backed products such as Paint Protection, Tyre Insurance and SMART Scratch and Dent Insurance are all popular choices for car buyers, However they do come with a premium charge, and this can put several hundreds of pounds onto any vehicle purchase.
Traditionally Gap Insurance products would not cover the cost of such items, and the value of these has been lost if a vehicle is deemed a total loss by a motor insurer.
However, new Easy Gap products can offer to protect the cost of Paint Protection and non transferable warranty items bought with the vehicle. We feel this is a modern feature for a modern product in 2012."
Easy Gap confirmed that this new protection is available on the Finance Gap, Return to Invoice and Vehicle Replacement products now online.