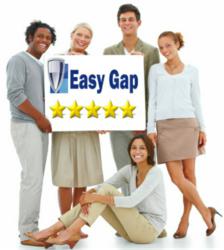 All Easy Gap 5 Star Rated products are now available for 5 years
Wirral, UK (PRWEB UK) 4 May 2013
One of the UK's leading Motor Gap Insurance brands, Easy Gap, have announced an that the option of 5 year cover has been extended for all the brands 5 Star Rated products in the UK. In the recently released Defaqto* Motor Gap Insurance Star Ratings, the Easy Gap brand saw three separate 5 Star Ratings awarded for products within its range.
Easy Gap have quickly moved to assure consumers that the ability to protect the financial investment in a motor vehicle will continue to be available for up to 5 years, for all of the brands top rated products, as company Director Mark Griffiths explained.
"The recent release of the Defaqto Star Ratings for Motor Gap Insurance was a source of immense pride for everyone connected to Easy Gap. With the independent product analysts deeming our products to have attained the maximum 5 Star standard** simply confirmed our belief that we provide some of the best products in the market."
"One area that we have seen grow significantly in the last twelve months is the selection of products for 5 year durations. With new motor vehicles now having much longer manufacturer warranties, and seemingly much more reliable, we have seen consumers much more interested in taking the maximum length of Gap Insurance cover."
"Aequitas Automotive, the company behind Easy Gap, announced our intention to provide 5 year options for both Return to Invoice and Vehicle Replacement cover in the summer of 2011. This was first provided on the sister brand of Easy Gap, GapInsurance123, in November 2011. This option has proved so popular that we ensured it became part of the new Easy Gap products in November 2012."
"Looking at product sales for Easy Gap we have seen the five year choice has become increasingly popular, and we suspect this will only be enhanced with the confidence of a 5 Star Rating from Defaqto."
"Therefore Easy Gap is pleased to confirm that the option of five year cover has been extended to all 5 Star Rated Motor Gap Insurance products in the Easy Gap portfolio."
Easy Gap confirmed that products that offer five year periods are Finance and Contract Hire Gap, Combined Return to Invoice Gap and Combined Vehicle Replacement Gap. Each of these products were awarded 5 Star Ratings by Defaqto.
Note to editors
*Defaqto is an independent financial research and software company that specialises in rating, comparing and analysing financial products and funds.
**Defaqto describe 5 Star Ratings as 'providing one of the highest quality offerings in the market'