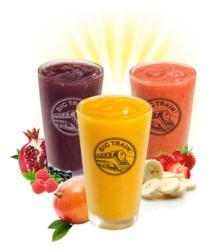 We are excited to offer this new line of real fruit smoothie products in a very simple pour over ice and blend format.
Lake Forest, CA (PRWEB) April 23, 2012
Using the freshest fruit from around the world, hand selected at peak ripeness, Big Train's Real Fruit Smoothies are full of real fruit flavor with less calories and sugar than most other leading brands, giving customers the healthier beverages that they are requesting. Available in 6 top selling flavors – Strawberry, Mango, Wildberry, Strawberry Banana, SuperFruit and Peach - Real Fruit Smoothies contain no artificial flavors, just real mouthwatering fruit taste in every sip. Each flavor is gluten free and does not contain high fructose corn syrup or hydrogenated oils. All flavors are also fat free except for SuperFruit, which contains the Acai berry that has 1g of fat per 16 fl oz serving.
Big Train Real Fruit Smoothies are a pour-over product that allows employees with little or no training to create a consistent and perfect smoothie every time. Just pour over ice and blend. Operators will save time and money while giving their customers the healthy and refreshing summer beverages they want to see on the menu.
With warmer weather quickly approaching, a refreshing Real Fruit Smoothie is the perfect way to quench your customers' thirst throughout the summer in a variety of ways. These smoothies are tasty using the standard recipe but are also delicious as a Frozen Fruit Cocktail, Yogurt Smoothie and Fruit Granita drink.
Tim Pisarski, Director of Strategic Marketing at Big Train explains the need for this new product launch. "Healthy "good for you" products are on all the 2012 Foodservice Top 10 product trend lists. Real Fruit Smoothies are a perfect product to meet this customer demand, and we are excited to offer this new line of products to our existing and prospective customers in a very simple pour over ice and blend format."
Real Fruit Smoothies are a nice addition to Big Train's current smoothie family and are available in a case pack size of 6, 64 fl oz easy to pour containers. Big Train will also still carry the Fruit Tea Smoothie Blast and Naturals Real Fruit Smoothie concentrates, which are available in a case pack of 6, 32 fl oz bottles. Each smoothie line makes 48, 16 fl oz smoothies per case.
To place your order for Real Fruit Smoothies from Big Train, call your local distributor or 800 BIG TRAIN (244 8724) today!
About Big Train, Inc.
Founded in 1991, Big Train is a leading manufacturer and distributor of premium powdered and liquid concentrate beverage mixes serving the specialty coffee, foodservice and retail industries in the US and abroad. Headquartered in Lake Forest, California with a manufacturing facility in Rancho Santa Margarita, California, Big Train is known for high quality beverage solutions that are great tasting and easy to prepare. Big Train offers a wide array of products including blended ice coffees, coffee-free blended crème frappes, chai teas, coffee protein drinks, fruit smoothies, kids' beverages, hot cocoas (hot chocolates), low carb beverages and baked goods, powdered soft serve and flavored syrups to more than 20,000 customers including independent and small chain coffeehouses, bakeries, foodservice operators and its extensive international distributor network. For more information, visit http://www.bigtrain.com or call 800-BIG-TRAIN (that's 800-244-8724). Or follow @BigTrain on twitter or like Big Train on Facebook