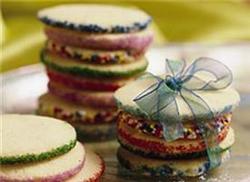 Minneapolis, MN (PRWEB) December 18, 2009
The holidays are just around the corner and to celebrate, Tablespoon has pulled together a wonderful collection of easy Christmas sugar cookie recipes for dessert! You can find this delicious list of easy recipes at Tablespoon.com, a site designed by General Mills to house its vast library of easy recipes and coupons for 100+ family-favorite brands, including Cheerios, Häagen-Dazs, Nature Valley, Betty Crocker, Pillsbury, Green Giant, Old El Paso, Progresso, Cascadian Farm, Muir Glen and more.
These delicious sugar cookies will satisfy friends and family alike, as will these easy cookie recipes:
Christmas Sugar Cookie Reindeers
Cookie Mix Christmas Sugar Cookies
Praline Sugar Cookies
Headquartered in Minneapolis, Minnesota, U.S.A., General Mills had fiscal 2009 global net sales of US$15.9 billion, including the company's $1.2 billion proportionate share of joint venture net sales. Visit generalmills.com.
# # #