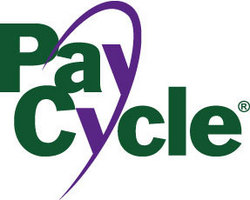 These small business owners don't have time to wait, and certainly don't want any delays in running their employees' payroll.
Palo Alto, Calif. (PRWEB) December 10, 2007
PayCycle, Inc., America's #1 online payroll service, today announced the release of PayCycle 2008 featuring significant innovations such as the all-new PayToday™ Setup, extended customer support and Peachtree integration.
PayToday Setup allows small businesses to sign up with the PayCycle® payroll service and run payroll the same day. According to a recent in-product survey, 70 percent of PayCycle's customers looked for the ability to sign up and run a same-day payroll. The PayToday Setup process eliminates the several days of setup time usually required by traditional payroll companies. Now with PayCycle, business owners have the freedom to easily start or switch payroll services at their convenience.
In response to customer feedback, PayCycle now integrates with Peachtree® accounting software. This eliminates the need to re-enter payroll information into Peachtree software. Starting in January, PayCycle will also offer its award-winning customer support on weekends. Now busy small business owners have more flexibility to handle payroll on their schedule.
"Modern employers searching for payroll solutions on the Internet want to get going quickly, which is why PayToday Setup is so important," said Karen White, PayCycle vice president of product management. "These small business owners don't have time to wait, and certainly don't want any delays in running their employees' payroll."
Switching payroll processes is painful and often avoided. A recent online survey of small employers conducted by TNS, a leading market research organization, found that 51 percent of the employers surveyed expressed relative dissatisfaction with their current method of doing payroll. Yet, only 16 percent switched or considered switching their payroll method in the last year. Anecdotally, small business owners frequently complain about the hassle and inconvenience of switching payroll services.
"Helping our newest customers run a payroll on their first day is how they know we are serious about making payroll easy," said White. After entering employee and company information, PayCycle customers can produce paychecks the same day they sign up.
"I was frantically looking one Friday to run payroll for my employees. I am glad I found PayCycle. The setup was so easy that I was able to sign up and run payroll the same day," said Ashok Garg, PayCycle customer and owner of Infotech Institute. "I was struggling with ADP. PayCycle made it easy to switch. I've never looked back."
"Small business owners are turning to online services, such as PayCycle, in rapidly increasing numbers and we expect this trend to accelerate throughout 2008. Online services offer significant advancements in ease of use, convenience and affordability when compared to traditional payroll services," said Laurie McCabe, senior vice president of AMI Research. "PayCycle continues to innovate in this area, and we believe that customers will be very pleased with the addition of weekend support."
PayCycle long ago identified integration as a critical part of its service. According to the TNS small employer study, 7 out of 10 small businesses use some kind of financial management software to run their business. This year, PayCycle will offer integration with Peachtree accounting software and will continue to support QuickBooks, Microsoft Money, Quicken and various other accountant-specific programs.
PayCycle's Growth Momentum
PayCycle now supports more than 60,000 small businesses in all 50 states. Since May 2006, PayCycle's net client growth has been 81 percent year over year. This is in an environment that is growing 6 percent or less annually, according to analysts' reports for traditional payroll companies such as ADP and Paychex.
PayCycle caters to the growing body of modern small business owners embracing the Internet for their financial needs. The TNS survey found that 45 percent of small business owners use the Internet to be more effective in their business through such practices as e-commerce and e-banking.
To meet this growing demand, PayCycle is partnering with a variety of major financial companies to provide its online payroll service to their customers. For example, banks are utilizing payroll as a way to complement online bill pay and round out their small business financial services. Also, PayCycle was recently selected as a Microsoft Money partner for the 5th consecutive year.
About PayCycle
PayCycle, America's #1 online payroll service, is on a mission to make payroll so easy that PayCycle will become the online payroll standard for very small businesses. PayCycle's unique "Do-It-With-You™" (DIWY™) technology platform guides customers through the entire payroll process from paychecks to W-2s. By integrating with the leading small business accounting packages such as Microsoft® Money Home & Business, Peachtree® accounting software, QuickBooks®, QuickBooks Online and QuickBooks for Mac, PayCycle eliminates the hassle of data re-entry. PayCycle is committed to providing outstanding customer service and is a proud finalist for the 2007 American Business "Stevie" award for "Most Innovative Company" and "Best Customer Service Organization." Founded in 1999, PayCycle has received more awards and recognition than any other online payroll service.
PayCycle is a registered trademark, and "Do-It-With-You" and "DIWY" are service marks of PayCycle, Inc. All other product names and trademarks are the property of their respective owners.
###