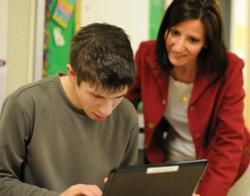 Today, schools are plagued with materials that are not digital or are in proprietary formats and cannot easily be read with assistive technologies. Educators who use EasyConverter with Read:Outloud 6 will make inaccessible materials a part of the past.
Volo, IL (PRWEB) June 29, 2011
Don Johnston Incorporated, a U.S. developer of assistive technologies for students with special needs announced today it will distribute EasyConverter by Dolphin Computer Access. EasyConverter enables educators to make required curriculum and instruction materials 'accessible' for students with disabilities.
"Getting accessible instructional materials (AIM) into the hands of more students is one of our foremost goals," said Kevin Johnston, Director of Development for Don Johnston, Incorporated. "Today, schools are plagued with materials that are not digital or are in proprietary formats and cannot easily be read with assistive technologies. Educators who choose the EasyConverter with Read:OutLoud 6 will make inaccessible materials a part of the past and can look to a future that provides students with disabilities more opportunities to study grade level curriculum."
U.S. K-12 schools are required to provide timely access to print materials in accessible formats for students with IEPs (Individual Education Plans) who are blind, visually impaired, have a physical disability such as cerebral palsy or a reading disability, such as dyslexia. This provision is a requirement of the 2004 IDEA (Individuals with Disabilities Education Act) law.
EasyConverter will quickly convert eBook files and printed text to DAISY 3, MP3, Braille and large print by using 'step-by-step' wizards to simplify the conversion process. A new optical character recognition (OCR) engine improves the accuracy of scanning PDF and paper-based documents. With EasyConverter, educators can create accessible versions of paper or digital files, including these electronic and proprietary formats:

Microsoft Word documents, rich text and PDFs
Kurzweil project files
EPUB files (open or unprotected files)
DAISY XML and HTML
Scanned paper documents
Image files
NIMAS (National Instructional Materials Accessible Standard) / Bookshare Files
"Don Johnston is the perfect partner for Dolphin and especially the EasyConverter," adds Charlie Hamilton, Dolphin's V.P. of Sales for North America. "We share a similar vision; accessible materials for every student, irrespective of their disability. The company's extensive experience in special education coupled with the well-known Read:OutLoud accessible technology makes our vision for true access a real possibility."
EasyConverter comes with a single computer license to Read:OutLoud 6, an eBook reader with an accessible web browser to preview DAISY 3 outputs. Read:OutLoud 6 includes embedded reading comprehension templates based on strategies from the National Reading Panel and Reading Next Report. Students will also enjoy various homework study tools including highlighters, a talking dictionary, a bibliography tool and an outline sidebar to collect facts and organize information.
EasyConverter is priced at $1400 for a single copy, including the Read:OutLoud software. Call 800-999-4660 or request a quote online to get discounts on multiple copies. Learn more about EasyConverter and Read:OutLoud 6.
About Don Johnston Incorporated
Don Johnston develops accessible reading and writing technologies to support K-12 and postsecondary students with cognitive, physical, and learning disabilities. Since 1980, the special education company has partnered with literacy experts, AT specialists, SLPs, OTs, special education teachers, university researchers and DSS coordinators to improve access to learning and to increase reading and writing independence. Students and individuals with dyslexia, autism, dysgraphia, down syndrome and diverse learning challenges will benefit from software and hardware devices that accommodate their learning needs in schools, the workforce and at home. Find us on Twitter and Facebook.
About Dolphin Computer Access
Dolphin Computer Access is one of the largest companies in the computer access industry, with over 70 employees in offices in the US, UK, Sweden and Norway and dealers in over 35 countries worldwide. The company offers a complete range of software solutions, including screen readers, screen magnifiers, DAISY talking book players and alternative format creation tools. Recent innovations include EasyConverter, a single software tool that makes reading materials accessible to people with visual and print impairments.
# # #