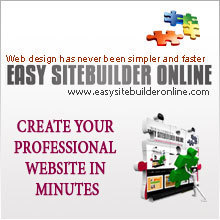 We believe in providing exceptional quality, cost effective solutions and services to our valuable customers.
Dacula, GA (PRWEB) March 2, 2010
3K Corporation, a leading company in web and multimedia design has launched the next generation website building tool; easysitebuilderonline.com, for everyone who wants to build their professional websites in a simple, fast and cost effective way.
Easysitebuilderonline.com is a powerful drag and drop website making tool which comes with hundreds of professionally designed, easily customizable templates that are updated regularly. Anyone can create a business, recreational, educational, personal or professional website in just a few minutes and there is absolutely no page limitation.
Users can customize their site any way they like. Videos, pictures, texts and maps can be added by simply dragging them to their website. Users can enhance the site with file attachments, stunning albums and music. Adding Flash files, hyperlinks, lists, metatags, etc. are simpler than ever. Looking to increase the revenue of your website? Add Google Adsense in few simple clicks! Video demonstrations and detailed tutorials illustrate everything the user needs to know. Absolutely no HTML, design or other technical skills are required!
Today, websites are an integral part of any individual or business. But having a reliable website at an affordable price is still a dream for many. "If you're not a web designer, don't want to pay a company to create a website for them, or don't have hundreds of dollars to spend on a website, this is the right tool for you" said Manoj Koottappilly, Chairman and CEO of 3K Corporation. "It was our mission and dream to provide a tool like this to the world, where anybody can create their mind blowing websites without any coding knowledge," added Mr. Koottappilly.
Anyone is free to create any number of sites with any design from easysitebuilderonline.com and if satisfied with the results, get it for a flat rate of $9.99. Compare this with the money and time you have to invest when creating a website using traditional methods. Once the website is created, download it with full source code. At any time customers can access their account and edit the contents of their site using the built in "Content Management System" and download it. Users may not get this feature anywhere else at a comparable price.
There's even more! easysitebuilderonline.com is now providing free hosting for one full year. Users get 5 Gigabytes of space and unlimited bandwidth. After this promotional period, all they have to pay is less than 84 cents / month (just $9.99 / month) to keep hosting with easysitebuilderonline.com.
For more information and to create a website, please visit easysitebuilderonline.com.
About 3K Corporation:
Since 2004, 3K Corporation is providing cutting-edge solutions to various industries in the area of e-commerce, business process outsourcing & co-sourcing, application development, integration & support, database administration, product development, e-government architecture, procedures and management systems, program management, project management, web design, animation and multimedia.
Media Contact:
Manoj Koottappilly
Email: mk(at)3kcorp(dot)com
Phone: 770-573-9660
###