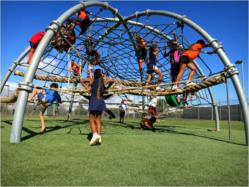 The playground is very unique, there's nothing like it anywhere.
VISTA, California, (PRWEB) April 11, 2013
Planners on a recent Ewa Beach, Hawaii community playground renovation and rebuild project installed EasyTurf synthetic grass to provide a high quality, realistic grass landscape for the long-neglected recreational area. The playground project was part of an ambitious overhaul to correct unsafe conditions at the Ewa Beach community playground near Honolulu, sponsored by the non-profit Ewa Beach Community Based Development Organization (EBCBDO). The installation of EasyTurf artificial grass ensures a highly durable, water-saving ground cover that looks beautiful and requires minimal upkeep.
The Ewa Beach playground project aligns with EasyTurf's growing list of high profile projects calling for the highest quality artificial grass products available. EasyTurf has earned its high quality reputation as a FieldTurf Company, the industry leader in community parks and playground surfaces throughout North America.
EBCBDO, a nonprofit focusing on improving the quality of life for Ewa Beach residents, applied for and was awarded a $90,000 grant from the City of Honolulu to rebuild the playground, designated unsafe and shut down by the city in 2011. EBCBDO turned to two innovative playground partners: Kompan (playground equipment) and EasyTurf (surfacing) to build the one-of-a-kind "Explorer Dome" playground on the island of Oahu.
"The playground is very unique," says Christiane Bolosan-Yee, EBCBDO President. "It's the first in the state, and there's nothing like it anywhere else."
Despite limited funding, the EBCBDO chose to invest in the highest quality playground equipment and surfacing products available – products that would save money in the long term by offering low maintenance, water-conserving and cost-cutting solutions. Because EasyTurf synthetic grass can be installed and fit virtually anywhere, it went in with precise cuts around an existing landscape, fountains and walkways for a spectacular appearance. EBCBDO officials motivated a force of resident volunteers to prep, clean and remove old asphalt and debris from the project area, inspiring residents to work together and share the sense of pride that came with accomplishing the renewal of their community playground.
With the help of Kompan, EasyTurf, EBCBDO and community volunteers, residents now have a safe, fun place to play.
In addition to the Ewa Beach community playground, EasyTurf has provided the surface cover for some notable parks, playgrounds and kid-friendly recreational spaces including Walt Disney World Resorts, Sea World San Diego, San Diego's Wild Animal Park and The Learning Care Group schools and day care center facilities across North America.
EasyTurf is the exclusive artificial grass surface used by Kompan, the international industry leader in playground equipment.
"EasyTurf provides communities with the ability to enhance their appeal by providing an innovative, cost-effective, welcoming and safe landscape surface for their residents," says Easy Turf President David Hartman. "EasyTurf's superior synthetic grass and exceptional customer service continue to attract communities, cities, schools and other family-friendly facilities searching for high-quality aesthetic improvements with minimal upkeep, water and labor costs."
Many businesses, communities, municipalities, schools and military installations turn to artificial grass as a landscape alternative to benefit from dramatically lower water and maintenance costs. These potential savings lead directors and decision-makers to EasyTurf synthetic grass, providing a beautiful, cost-effective solution to installing and maintaining landscape areas.
For more information, visit the EasyTurf website at www,EasyTurf.com, call 1-866-327-9877 or Email info(at)EasyTurf(dot)com.
About EasyTurf:
In May 2010 EasyTurf, Inc., a long-time distributor of FieldTurf's line of landscaping products and a recognized leader in the artificial grass industry, became the national brand of FieldTurf's landscape, pets, playground, and golf artificial grass products. The partnership allowed FieldTurf to rapidly expand its existing dealer network and accelerate sales and distribution of FieldTurf's landscape products on a national level to homeowners, municipalities, schools, businesses and the military.
EasyTurf offers state-of-the-art synthetic lawns for beautiful, easy-care residential and commercial landscapes, providing specialty synthetic grasses engineered specifically for commercial and residential putting greens, and for pet-friendly landscapes.
EasyTurf's product advancements in the synthetic grass industry have led to massive growth for the Vista, California-based leader in lifelike artificial lawns that stay beautiful year round.
FieldTurf has long been the world leader in synthetic sports field cover; now EasyTurf is poised to equal that success in the residential and commercial artificial grass landscaping markets.
###