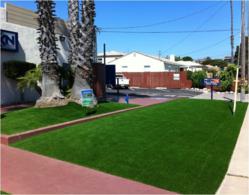 I realized right away that not all synthetic grass is created equal, so I started over with EasyTurf artificial grass.
VISTA, California, (PRWEB) April 15, 2013
Further broadening the scope of businesses turning to EasyTurf for high quality, low maintenance and low cost landscape solutions, the Southern California restaurant chain Fresh MXN has replaced its high cost, high maintenance landscape with EasyTurf artificial landscape products.
Fed up with the never-ending headaches of broken sprinklers, unreliable landscapers and astronomical water costs, Fresh MXN owner Claudia Vallarta was looking to slash her unruly landscaping costs at her 14-restaurant chain. Having already installed EasyTurf artificial grass at her home outside of San Diego with excellent results, she decided that synthetic landscape cover was the answer to her restaurant woes as well.
Unfortunately, she thought she could save money by purchasing synthetic turf for the restaurants at a local box store and had her landscaper install it, only to regret the decision quickly.
"It did not meet my expectations, it matted down quickly," Vallarta says. "I realized right away that not all synthetic grass is created equal, so I started over with EasyTurf artificial grass."
Once Vallarta made the decision to install EasyTurf synthetic grass at her restaurants, she never looked back. Offering unmatched drain-ability, durability, and a realistic lush landscape, the EasyTurf grass provided the low maintenance, cost-cutting, water conserving solution she was looking for. Additionally, the EasyTurf synthetic lawn was easily precision cut by installation experts to fit around existing landscapes, hardscapes and walkways for a beautiful appearance.
Fresh MXN Restaurant chain joins a growing list of notable commercial clients, including Walt Disney World Resorts, Sea World San Diego and the United States Marine Corp who have used EasyTurf in parks, businesses, city landscapes, municipal landscapes, water district landscapes, schools, day care centers, animal shelters and other outdoor spaces across North America.
"EasyTurf grass provides companies with the ability to enhance their appeal and incorporate an innovative, cost-effective, welcoming landscape that speaks volumes to that company's unique brand," says Easy Turf President David Hartman. "EasyTurf's superior synthetic grass and exceptional customer service continue to attract commercial businesses searching for high-quality aesthetic improvements that enhance their green footprint by cutting back on water usage, and by taking advantage of EasyTurf's 100 percent recyclable qualities."
For more information, visit the EasyTurf.com website, call 1-866-327-9877 or Email info(at)EasyTurf(dot)com.
About EasyTurf:
In May 2010 EasyTurf, Inc., a long-time distributor of FieldTurf's line of landscaping products and a recognized leader in the artificial grass industry, became the national brand of FieldTurf's landscape, pets, playground, and golf artificial grass products. The partnership allowed FieldTurf to rapidly expand its existing dealer network and accelerate sales and distribution of FieldTurf's landscape products on a national level to homeowners, municipalities, schools, businesses and the military.
EasyTurf offers state-of-the-art synthetic lawns for beautiful, easy-care residential and commercial landscapes, providing specialty synthetic grasses engineered specifically for commercial and residential putting greens, and for pet-friendly landscapes.
EasyTurf's product advancements in the synthetic grass industry have led to massive growth for the Vista, California-based leader in lifelike artificial lawns that stay beautiful year round.
FieldTurf has long been the world leader in synthetic sports field cover; now EasyTurf is poised to equal that success in the residential and commercial artificial grass landscaping markets.