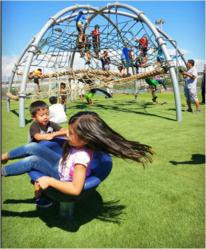 Applications for artificial grass surfacing on playgrounds and in recreational areas continue to grow throughout North America.
VISTA, California (PRWEB) May 28, 2013
Artificial turf industry leader EasyTurf, Inc. has been selected by playground industry leader KOMPAN North America, Inc. to be the exclusive supplier of artificial grass for its nationwide playground construction projects. KOMPAN chose EasyTurf synthetic grass based on its proven performance as one of the safest, longest-lasting, most efficient draining and most realistic artificial grass products available today.
The agreement between EasyTurf, the landscape arm of Field Turf, and the playground systems and equipment company reaffirm both companies' cutting-edge leadership position in the recreation and playground landscape marketplace.
After conducting an exhaustive product line review to meet its rigorous quality and safety requirements, KOMPAN found EasyTurf to be the only company capable of meeting their high standards at every installation location. KOMPAN creates unique recreational play structures and playgrounds throughout the U.S. and worldwide.
In recent years, synthetic turf has become the preferred landscape design solution for playground applications, surpassing sod and other natural landscape products. EasyTurf synthetic grass received the highest IPEMA safety certifications and KOMPAN, recognized these marketplace demand factors.
"At KOMPAN North America, we are dedicated to creating exceptional play environments that promote healthy opportunities for users of all ages and all abilities," says Jay Cooke, KOMPAN Vice President Sales, North America. "It is critical that our supplier partners offer a product that is superior in performance, while also delivering a clear and meaningful difference within their category.
"Our partners must also share complimenting principles with respect to innovation, value, service and long-term product durability; after an extensive review process and analysis, it was evident that EasyTurf was the best synthetic turf partner for KOMPAN North America."
Applications for artificial grass surfacing on playgrounds and in recreational areas continue to grow throughout North America. Artificial turf, originally known for its sports field and golf course applications, has experienced a boost in popularity in the commercial and residential landscape sectors as well as in school, daycare and pet facilities. Costly maintenance and water rate increases have also driven the switch to artificial grass for municipal landscapes and pet facilities.
"Becoming the exclusive artificial grass supplier to KOMPAN because of our industry-topping quality is an exciting opportunity," says David Hartman, EasyTurf President. "EasyTurf has been recognized for many years as the leader of the artificial grass landscaping industry, and we are pleased to embark on this coveted joint venture with KOMPAN."
For more information, visit the EasyTurf website, call 1-866-327-9877 or Email info(at)EasyTurf(dot)com.
About EasyTurf:
In May 2010 EasyTurf, Inc., a long-time distributor of FieldTurf's line of landscaping products and a recognized leader in the artificial grass industry, became the national brand of FieldTurf's landscape, pets, playground, and golf artificial grass products. The partnership allowed FieldTurf to rapidly expand its existing dealer network and accelerate sales and distribution of FieldTurf's landscape products on a national level to homeowners, municipalities, schools, businesses and the military.
EasyTurf is North America's preeminent source for landscaping, offering state-of-the-art synthetic lawns for realistic, beautiful, easy-care residential and commercial landscapes, providing specialty synthetic grasses engineered specifically for military surfaces, commercial and residential athletic and playground surfaces, putting greens, and for pet-friendly landscapes.
EasyTurf's product advancements in the synthetic grass industry have led to massive growth for the Vista, California-based leader in lifelike artificial lawns that stay beautiful year round.
FieldTurf has long been the world leader in synthetic sports field cover; now EasyTurf is poised to equal that success in the residential and commercial artificial grass landscaping markets.
About KOMPAN:
Founded in 1970 and headquartered in Denmark,KOMPAN is an award-winning international playground manufacturer with 16 Centers of Excellence providing playground solutions in 61 countries. KOMPAN playgrounds set themselves apart with colorful, child-centric play equipment designed to promote childhood development through play.
KOMPAN's North American headquarters in Tacoma, Washington employs a team of play consultants working together to design and build innovative playgrounds, making ultimate play value a reality for communities throughout the United States, Canada, Mexico and Puerto Rico. KOMPAN is a leading specialist in innovative play solutions throughout Europe, North America, Asia/Pacific and The Middle East. KOMPAN was purchased by investor Nordic Capital in 2005.