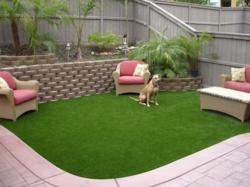 Because of the (MaxxfFlow) drainage capabilities, pet waste actually drains right through and we don't have to worry about odors permeating.
VISTA, California (PRWEB) May 23, 2013
EasyTurf continues to prove its mettle as a leader in synthetic turf innovation with its MaxxFlow artificial grass backing. MaxxFlow provides EasyTurf products with the ability to drain faster and more thoroughly than any other organic or synthetic landscape surface solution.
The propriety MaxxFlow backing is 100 percent porous and 100 percent permeable, allowing liquids to drain quickly through at rates up to 10 times faster than other artificial turf backings, and faster than real grass. MaxxFlow's innovative backing ensures EasyTurf drains clean, with no chemicals or additives needed for clean up. The combination of the MaxxFlow backing and EasyTurf's exclusive yarn polymer formula create the safest, cleanest, healthiest and most hypoallergenic landscape surface available.
Drainage is key when selecting an artificial grass product. Odor build-up from pet urine and other foreign matter on synthetic turf with inadequate drainage can become intolerable in as little as three to six months after installation.
"The development of MaxxFlow backing takes artificial grass drainage to a new level," says EasyTurf President David Hartman. "Many people find out too late that synthetic grass drainage is critical in successful landscaping applications; with inferior products, heavy rains can cause puddling and pet owners experience the resulting odor build up from their pet's waste."
The addition of MaxxFlow backing to the EasyTurf product line reinforces the company's status as an industry leader of innovative, eco-friendly synthetic grass. MaxxFlow's built-in weed barrier also helps reduce installation costs associated with other synthetic turf. The introduction of the MaxxFlow backing has solidified EasyTurf's position as a trusted name for Humane Societies, animal shelters and pet care facilities across North America.
"Because of the (MaxxfFlow) drainage capabilities, pet waste actually drains right through and we don't have to worry about odors permeating or staying with us," says Simran Zilaro, Director of Public Relations & Marketing at the San Diego Humane Society & SPCA. "Just wash it down, and it's all taken care of.
"We don't have brown spots staining the turf, we don't have a huge water bill to be concerned about, and there is no fertilizer involved, which can be very dangerous to dogs."
For more information, visit the EasyTurf website, call 1-866-327-9877 or email info(at)EasyTurf(dot)com.
About EasyTurf:
In May 2010 EasyTurf, Inc. a long-time distributor of FieldTurf's line of landscaping products and a recognized leader in the artificial grass industry, became the national brand of FieldTurf's landscape, pets, playground, and golf artificial grass products. The partnership allowed FieldTurf to rapidly expand its existing dealer network and accelerate sales and distribution of FieldTurf's landscape products on a national level to homeowners, municipalities, schools, businesses and the military.
EasyTurf is North America's preeminent source for landscaping, offering state-of-the-art synthetic lawns for realistic, beautiful, easy-care residential and commercial landscapes, providing specialty synthetic grasses engineered specifically for military surfaces, commercial and residential athletic and playground surfaces, putting greens, and for pet-friendly landscapes.
EasyTurf's product advancements in the synthetic grass industry have led to massive growth for the Vista, California-based leader in lifelike artificial lawns that stay beautiful year round.
FieldTurf has long been the world leader in synthetic sports field cover; now EasyTurf is poised to equal that success in the residential and commercial artificial grass landscaping markets.