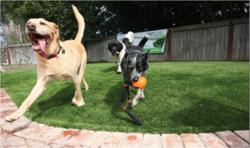 New customers acquire beautiful, problem-free lawns, and non-profits receive much needed funding and donations.
Vista, CA (PRWEB) April 16, 2013
EasyTurf has established a new community outreach program that provides a unique fundraising opportunity for local and regional pet rescue and care organizations. The outreach program is designed to simultaneously help homeowners solve landscaping problems, cut rising water costs, and focus on important water conservation efforts while contributing to community pet rescue and animal shelter non-profits.
By providing non-profit pet rescue organizations and animal care facilities that install EasyTurf grass in their landscapes the ability to earn money back through referral purchases, EasyTurf has created a new donation source that benefits both the consumer and the non-profit organization they hold most near and dear.
The consumer benefits from the beautiful, maintenance-free lawn they have after installing EasyTurf artificial grass, plus the added cost savings – as much as 70 percent on reduced water bills, not to mention the reduction in lawn maintenance costs. The referring non-profit earns a monetary donation with each referral purchase.
Several pet rescue and animal welfare non-profit organizations have taken advantage of the program after installing EasyTurf at their facilities, including the Helen Woodward Animal Shelter in San Diego and the San Diego Humane Society & SPCA at both locations (North and South). EasyTurf's Outreach Program creates a fundraising stream back to these non-profits to show its appreciation for their contributions to the community. EasyTurf synthetic grass products' excellent reputation for quality, durability, cost savings and remarkable landscape beauty allow both non-profits and consumers to feel comfortable and confident in the referral process.
"New customers acquire beautiful, problem-free lawns, and non-profits receive much needed funding and donations," says EasyTurf President David Hartman. "We are excited about our new outreach program and the financial benefits that participating pet rescue and animal welfare groups will receive in these tough economic times."
For more information on the EasyTurf non-profit outreach program, Email jluper(at)EasyTurf.com. For more information on EasyTurf landscape products, visit the EasyTurf website, call 1-866-327-9877 or Email info(at)EasyTurf(dot)com.
About EasyTurf:
In May 2010 EasyTurf, Inc. a long-time distributor of FieldTurf's line of landscaping products and a recognized leader in the artificial grass industry, became the national brand of FieldTurf's landscape, pets, playground, and golf artificial grass products. The partnership allowed FieldTurf to rapidly expand its existing dealer network and accelerate sales and distribution of FieldTurf's landscape products on a national level to homeowners, municipalities, schools, businesses and the military.
EasyTurf offers state-of-the-art synthetic lawns for beautiful, easy-care residential and commercial landscapes, providing specialty synthetic grasses engineered specifically for commercial and residential putting greens, and for pet-friendly landscapes.
EasyTurf's product advancements in the synthetic grass industry have led to massive growth for the Vista, California-based leader in lifelike artificial lawns that stay beautiful year round.
FieldTurf has long been the world leader in synthetic sports field cover; now EasyTurf is poised to equal that success in the residential and commercial artificial grass landscaping markets.
###