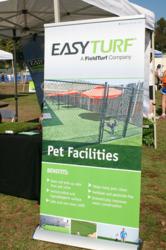 The star-studded event featured a doggie fashion show, hosted by Jane Lynch from the television show "Glee," complete with an EasyTurf artificial grass-lined runway.
VISTA, California (PRWEB) May 22, 2013
EasyTurf, along with other animal rights-supporting businesses, helped raise more than $300,000 and find loving forever homes for more than 30 homeless dogs and cats in the Los Angeles area through its recent sponsorship of the Rescue Train organization's 7th annual "Race for the Rescues" 5K event. The star-studded event featured a doggie fashion show, hosted by Jane Lynch from the television show "Glee," complete with an EasyTurf artificial grass-lined runway. Donations benefit 12 animal welfare and pet rescue organizations in and around Los Angeles.
Dogs modeling the latest in canine fashion were up for adoption, with almost everyone finding a forever home by the end of the day. EasyTurf artificial grass was chosen to surface the stage and runway areas because of its pet-friendly, industry-leading reputation for offering the highest quality synthetic grass on the market.
The demand for natural-looking artificial landscape products that won't fade and require minimal upkeep in any climate is growing quickly. EasyTurf, the residential and commercial landscape arm of the FieldTurf Company, has taken the lead in artificial grass solutions among residential, commercial and municipal customers, and in community parks, playgrounds, schools, day care facilities, pet rescues and animal shelter facilities across North America.
EasyTurf's growing list of notable commercial clients include Walt Disney World Resorts, Sea World San Diego and the United States Marine Corps., who have used EasyTurf in parks, businesses, city landscapes, municipal landscapes, water district landscapes, schools, day care centers, animal shelters and other outdoor spaces across North America.
"EasyTurf provides communities and facilities with the ability to enhance their aesthetic appeal with an innovative, cost-effective, welcoming and safe landscape surface that is safe for human and four-legged residents," says EasyTurf President David Hartman. "EasyTurf's superior synthetic grass and exceptional customer service continue to attract customers searching for high-quality artificial landscape products requiring minimal upkeep."
Many businesses, communities, municipalities, schools and military installations turn to artificial grass as a landscape alternative that can dramatically lower water and maintenance costs.
The Rescue Train continues to accept donations, which directly benefit the nonprofit organization's 12 pet rescue and animal welfare facilities. For more information, or to make a donation, visit the Rescue Train website.
For more information on EasyTurf artificial grass products, visit the EasyTurf website, call 1-866-327-9877 or email info(at)EasyTurf(dot)com.
About EasyTurf:
In May 2010 EasyTurf, Inc., a long-time distributor of FieldTurf's line of landscaping products and a recognized leader in the artificial grass industry, became the national brand of FieldTurf's landscape, pets, playground, and golf artificial grass products. The partnership allowed FieldTurf to rapidly expand its existing dealer network and accelerate sales and distribution of FieldTurf's landscape products on a national level to homeowners, municipalities, schools, businesses and the military.
North America's preeminent source for landscaping, EasyTurf offers state-of-the-art synthetic lawns for realistic, beautiful, easy-care residential and commercial landscapes. EasyTurf's specialty synthetic grasses are engineered specifically for military surfaces, commercial and residential athletic and playground surfaces, putting greens, and for pet-friendly landscapes.
EasyTurf's product advancements in the synthetic grass industry have led to massive growth for the Vista, California-based leader in lifelike artificial lawns that stay beautiful year round.
FieldTurf has long been the world leader in synthetic sports field cover; now EasyTurf is poised to equal that success in the residential and commercial artificial grass landscaping markets.