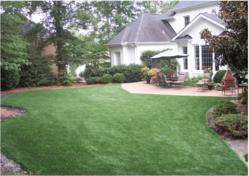 Water prices have doubled and even tripled over the past 12 years.
VISTA, CA (PRWEB) May 24, 2013
With water rates from California to New York and beyond surging, many residential and commercial property owners are turning to EasyTurf artificial grass products to ease the costs of outdoor irrigation and lawn care.
As water rates continue to climb, more consumers have searched for low-maintenance options for their outdoor spaces. Sales of EasyTurf synthetic grass have been steadily increasing since January as consumers brace themselves for another round of water price increases scheduled to hit municipalities nationwide this spring.
According to a recent USA Today study of 100 municipalities, water prices have doubled and even tripled in more than a quarter of the locations identified over the past 12 years. California has been particularly hard hit as water price increases have outpaced other utilities, and taken a larger chunk out of household budgets in the process.
By early 2013, water costs in Atlanta, San Francisco and Wilmington, Delaware had more than tripled since 2002; officials in these three municipalities and elsewhere say conservation efforts may also be counter-intuitively raising water rates in some locations.
Outdoor irrigation and lawn care are two of the biggest contributors to water bills especially during the hot summer months. More and more property owners are installing EasyTurf artificial grass at their homes and businesses in order to maintain the lush, green aesthetic of a healthy lawn without the expense and time consumption that caring for sod requires.
"Synthetic grass is a viable, easy option for residential and business property owners looking to permanently cut their water usage by as much as 70 percent," says EasyTurf President David Hartman.
"Not only does artificial landscaping products like EasyTurf synthetic grass dramatically reduce (or eliminate) lawn maintenance costs, we're proud to say it contributes to water conservation efforts, and it looks beautiful."
EasyTurf helped conserve 590,298,000 gallons of water in 2012, and 29.08 billion gallons since 1996, Hartman says.
"And this number grows exponentially as more and more people adapt our high quality artificial turf products to their landscapes."
For more information, visit the EasyTurf website, call 1-866-327-9877 or email info(ay)EasyTurf(dot)com.
About EasyTurf:
In May 2010 EasyTurf, Inc. a long-time distributor of FieldTurf's line of landscaping products and a recognized leader in the artificial grass industry, became the national brand of FieldTurf's landscape, pets, playground, and golf artificial grass products. The partnership allowed FieldTurf to rapidly expand its existing dealer network and accelerate sales and distribution of FieldTurf's landscape products on a national level to homeowners, municipalities, schools, businesses and the military.
North America's preeminent source for landscaping, EasyTurf offers state-of-the-art synthetic lawns for realistic, beautiful, easy-care residential and commercial landscapes. EasyTurf's specialty synthetic grasses are engineered specifically for military surfaces, commercial and residential athletic and playground surfaces, putting greens, and for pet-friendly landscapes.
EasyTurf's product advancements in the synthetic grass industry have led to massive growth for the Vista, California-based leader in lifelike artificial lawns that stay beautiful year round.
FieldTurf has long been the world leader in synthetic sports field cover; now EasyTurf is poised to equal that success in the residential and commercial artificial grass landscaping markets.
###