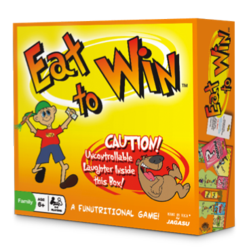 Highland, Michigan (PRWEB) January 09, 2013
Eat to Win LLC, makers of FunNutritional games and products will be attending the National School Supply and Equipment Association (NSSEA) Expo in Atlanta January 16 through 18, to showcase the benefits their games and products have for children struggling with weight and all those other children who can just benefit from healthier eating habits.
The U.S. Department of Education recently wrote about the benefits of game-based learning. They stated, "Well-designed games can motivate students to actively engage in meaningful and challenging tasks, and through this process to learn content and sharpen critical-thinking and problem-solving skills."
Jammi Roscoe, Chief Executive Director of Fun for Eat to Win, says, "We are attending this event, and many events like this, because we want to showcase our games and demonstrate how they can make a significant difference in a child's life."
"January is the time when many of us make our New Year resolutions," added Gary Gabel, Co-Founder of Eat to Win. "Often these resolutions entail the topic of losing weight. In fact, the week of January 6 through 12 is "Diet Resolution Week," so we encourage parents to consider using the initiative to consider pursing healthier habits for their children."
Eat to Win believes it is just as important for parents to help their children resolve to "eat healthy" in the New Year. This is where the "award winning" Eat to Win games can play a big role. Eat to Win games help children learn the importance of good nutrition and physical exercise in fun, dynamic ways.
Eat to Win is also excited to announce that Best of Best Toys Inc. has recently signed on as a new channel for the distribution of Eat to Win games. The Founder of Best of Best Toys Inc., Carle Wunderlich III, says, "Our company only represents the very best toys available in the marketplace, and that is why we have chosen Eat to Win games to be among our offerings to the finest retailers. We see that Eat to Win games can, in a truly fun way, help children learn to eat better."
For more information, please visit http://www.eattowingame.com
About Eat to Win:
Eat to Win was created by a concerned mom whose own child struggled with being overweight. Child obesity in America has become a major issue. An unhealthy lifestyle is a common problem among children and adults. Eat to Win was created to help encourage nutrition and exercise through fun and active games. Please share your stories with us on Facebook and Like Us to receive a discount! Our games are in agreement with ChooseMyPlate.gov.