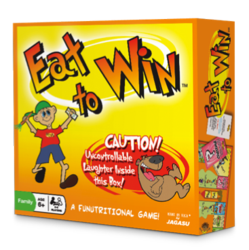 Highland, Michigan (PRWEB) December 17, 2012
Now is the last chance to give that special child in your life the perfect gift this Christmas. Eat to Win is offering 20% off all orders from now through December 24th.
Eat to Win games teach children how to eat healthy, exercise and learn nutrition while having hilarious fun. The FuNutritional Board Game gets children up and active, while the Personal Food Tracker helps your child focus on eating from all five recommended food groups found at http://www.choosemyplate.gov.
"As a parent, the health and well-being of a child is the most important thing in the world. During Christmas especially, we want to give our children everything, and I think it's especially important to give children items that they not only love but will make their lives more fulfilling. Our board games and flash cards are some of those items," said Gary Gabel, Co-Founder of Eat to Win.
Visit http://www.eattowingame.com/shop/ and use the promo code: Holiday12 at checkout to receive 20% off the order.
About Eat to Win:
Eat to Win was created by a concerned mom whose own child struggled with being overweight. Child obesity in America has become a major issue. An unhealthy lifestyle is a common problem among children and adults. Eat to Win was created to help encourage nutrition and exercise through fun and active games. Please share your stories with us on Facebook and Like Us to receive a discount! Our games are in agreement with MyPlate.gov.