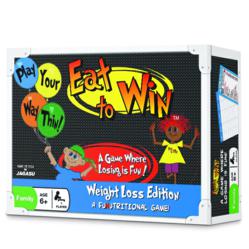 This is the Game that Won 2012 Game of the Year
(PRWEB) July 10, 2012
As a provider of fun solutions to childhood obesity, Eat to Win has been recognized by the 2012 Creative Child's Award Program from Creative Child Magazine. Parents, educators and professionals awarded the Eat to Win franchise the 2012 Game of the Year Award in the Kids Games – Nutrition Category for their Kid's Weight Loss Edition, and the 2012 Preferred Choice Award in the Kids Board Games category for their FuNutritional Board Game.
"We're honored to accept these awards from Creative Child Magazine," says creator of Eat to Win, Jammi Roscoe. "To know that we have been recognized by other parents and peers for our efforts to instill healthy, yet fun habits in children is an ingratiating feeling."
The Eat to Win games are interactive games that inspire kids to learn the fundamentals of nutrition while having fun and losing weight. Children will learn to make better choices by learning the value of food, benefits of exercise and the experience of handling money, in a fun dynamic way that a child would be able to stick to.
Based on special criteria that the Creative Child Magazine's Award Program provides, each Eat to Win game was judged based on nurturing factor, creativity and its ability to raise well balanced children. Each product submitted is reviewed by many people, and only one wins each department award.
To showcase their newly award childhood nutrition approach, Eat to Win will be at the Texas PTA's Summer Leadership Seminar in Austin, Texas from July 27-29. The event is expected to attract 3,000 Texas PTA members looking for training opportunities, networking, and resources.
For more information, please visit http://www.eattowingame.com
About Eat to Win:
Eat to Win was created by a concerned mom whose own child struggled with being overweight. Child obesity in America has become a major issue. An unhealthy lifestyle is a common problem among children and adults. Eat to Win was created to help encourage nutrition and exercise through fun and active games. Please share your stories with us on Facebook and Like Us to receive a discount! Our games are in agreement with MyPlate.gov.