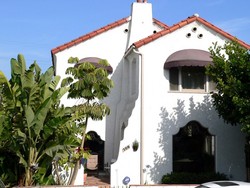 " I am so proud of our staff and their commitment to providing excellence in eating disorder treatment and the recognition of that through accreditation. We promise to continue our mission to deliver personalized care of the highest quality."
Long Beach, CA (PRWEB) June 20, 2010
Shoreline Center for Eating Disorder Treatment in Long Beach, CA, announced that the Commission on Accreditation of Rehabilitation Facilities (CARF) has awarded its outpatient programs with three-year accreditation. This accreditation decision represents the highest level that can be awarded to an organization and shows the organization's substantial conformance to the CARF standards. An organization receiving a three-year accreditation has put itself through a rigorous peer review process and has demonstrated to a team of surveyors during an on-site visit that its programs and services are of the highest quality, measurable and accountable.
Shoreline Center for Eating Disorder Treatment in Long Beach, Los Angeles County, CA, offers a variety of programs to assist clients recover from the devastating impact of all forms of eating disorders, including Anorexia Nervosa, Bulimia Nervosa and Binge Eating Disorders. In addition to its comprehensive treatment programs, which include an Eating Disorder Partial Hospital-Day Treatment Program and an Evening Intensive Outpatient Program, Shoreline also offers a unique Transitional Living Home (Satori House) which offers clients opportunities to practice their recovery while integrating back into real world responsibilities. The environment is structured and supportive, and promotes the development of life skills that will assist in the prevention of relapse. With the mortality rate of eating disorders being approximately 10%, comprehensive and evidence based services lead to a higher quality of care and translate into a higher rate of recovery.
Rachel Levi, Executive Director and Certified Eating Disorder Specialist said, "I am so proud of our staffs commitment to excellence and our continued desire to provide individualized eating disorder treatment that meets the needs of our clients'. We will continue to monitor quality and establish meaningful outcomes and measures. In this time of Healthcare Reform and the accompanying uncertainty, we felt a strong desire to join with CARF in establishing ourselves as a leader in Eating Disorder Treatment." For more information on our services, please go to http://www.shoreline-eatingdisorders.com
The Commission on Accreditation of Rehabilitation Facilities (CARF) is an independent, nonprofit accrediting body whose mission is to promote the quality, value and optimal outcomes of services that centers on enhancing the lives of persons served.
###