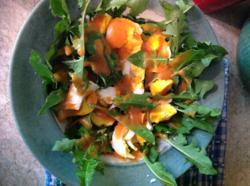 Have kids help pick and wash the Dandelion greens. They'll love to eat their own creation!!
Meeteetse, WY (PRWEB) June 17, 2013
O.L. Shepp, a nurse/cowgirl shares healthy recipes to ensure and promote wellness through simple cooking in her upcoming book, Cooking For The Health Of It, (Seven Steps to Cowboy Up Your Cooking).
In her new book, O.L. Shepp emphasizes getting healthy and staying healthy by not eating less, but eating more of the right foods.
The first step to cowboy up your cooking is in getting prepared. Steps to preparing to cook healthier are first in preparing the kitchen to feed a crowd for an unexpected celebration, an emergency or a spur-of-the-moment-branding.
Growing a garden is a joyous undertaking; though, hard work, severe weather and volatile markets demand for dedication and perseverance.
In O.L. Shepp's upcoming book, Cooking For The Health Of It, she provides alternatives to growing a garden.
Harvesting the greens that nature has already provided, like wild Dandelion greens, is a recipe in O.L. Shepp's new book.
Dandelions are abundant and will replenish again and again throughout the summer. Dandelions, though seasonal, are available in large quantities.
Dandelion leaves can be used as you would spinach; in salads, creamed in sauces and soups or baked in lasagna.
Cooking For The Health Of It, provides the abundance of culinary uses for Dandelions:

Mix greens in salads
Roots can be sliced for salads
Roast and grind roots for coffee
Dry leaves for tea
Petals used for wine
Instructions for a unique summer salad from O.L. Shepp's book are shared below, giving a new respect for those obnoxious yellow weeds that decorate lawns and meadows.
Dandelion Salad
Pick tender green shoots of small Dandelion flowers, wash thoroughly. Let stand in ice-cold water for an hour. Place in salad bowl, cover with hard boiled eggs and serve with French dressing.
According to O.L. Shepp, "Despite natural variations, trace minerals are widely distributed in foods as they come from nature. Eating a wide variety of foods you are likely to get the nutrients that you need. Dandelions are high in vitamins A and C and there is no toxic potential to Dandelions, large quantities may be consumed."
Make a point of getting healthy meals on the table at supper time in front of kids. Getting kids to eat healthy is an endless battle. O.L. Shepp, offers unique recipes and instructions to encourage kids to help prepare and cook healthy meals. They'll love to eat their own creation!!
Opt in at olshepp.com for your Free eBook version of, Cooking For The Health Of It, today!