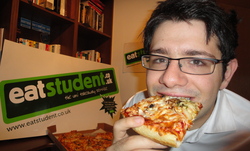 (PRWeb UK) November 19, 2010
Two recent graduates have beaten the credit crunch this week by selling their web business to the industry leader, which will see around £500,000 invested in the company to help the duo develop it on a national scale.
Eatstudent.co.uk was set up by Joshua Magidson in 2007 while he was in his first year at Nottingham University. The company enables students to locate their local takeaway and delivery restaurants and order online from them directly through the website.
The idea originated whilst Josh was attempting to order takeaway food during Freshers' week and could not find any restaurant menus or phone numbers. A short time later, he had set up a budget directory website from his student dorm for £100.
A few years later, the website has gone from strength to strength and has grown to eight universities across the UK, with thousands of student users ordering food through it every week. Josh has also recruited fellow director, Edward Green, an old friend from school.
This has attracted the attention of online takeaway giants Just-Eat.co.uk, an online ordering website targeted at the general population. They have recently bought a majority share hold in Eatstudent, and given Josh full autonomy as managing director to help them reach a completely new demographic.
Josh is understandably delighted by the takeover: "Eatstudent can seriously benefit from the funding and expertise that Just-Eat can offer us. However, the deal breaker for us was that they want us to retain our small company feel and have given us total freedom to continue running the business on a day-to-day basis with almost no involvement from their side. Whilst they will continue to target the general population, we benefit from a very specific and localised target market.
"Our site is completely tailored to be perfect for our users. We find the best restaurants for students, offering exclusive student discounts and even have the functionality to allow our users to search for restaurants by pre-selecting their hall of residence. We can also have a lot of fun with our branding, emphasized by our recent campaign which had the tagline 'Sex, Drugs and Egg Spring Rolls'.
"Overall it has been a difficult few years of exceptionally hard work but has proven to be well worth it. Luckily we've picked an industry that has grown considerably through the credit crunch and the next stage is to take it to every university in the country. It seems just yesterday that we were formulating the business plan for Eatstudent over a cold pizza in my hall of residence!"
For more information, please feel free to contact us:
Contact: Joshua Magidson
Email: joshmagidson(at)eatstudent(dot)co(dot)uk
Number: 020 8731 2639
Website: http://www.eatstudent.co.uk
About Eatstudent.co.uk:
Eatstudent.co.uk was set up by Joshua Magidson in 2007 during his time as a student at Nottingham University. Eatstudent is currently in eight universities nationally with plans to grow to every UK university within two years. Eatstudent uses customised modern technology to transfer orders from their website to their partner restaurants. They receive hundreds of orders a night from students and recently featured in Startups.co.uk's list of the Top 100 UK Start Ups.
# # #