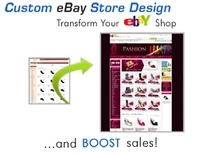 I am very happy, and I can say that visits and sales in our new redesigned eBay shop have now increased by 25%.
Ocala, FL (PRWEB) September 23, 2010
eBay stores are getting a new look, thanks to eBay store design consultancy dZine-Hub. The company today announced that it has crossed its 200 client milestone, providing expert store design and listing template services to clients throughout the world.
dZine-Hub helps eBay sellers succeed by offering custom design services and creating unique eBay store designs. According to a dZine-Hub spokesman, "Success as an eBay seller depends on so much more than offering good products and good customer service. It also requires a good presentation. eBay sellers that aspire to the highest levels of online success need to present that professional appearance in their eBay storefronts, and go beyond the basic cookie-cutter eBay store designs of the past." dZine-Hub works with clients to create highly customized and unique eBay store designs that reflect the seller's value proposition and personality.
With the popularity of eBay and the high number of new participants signing up every day, it's essential to have a strategy to get noticed. eBay experts always suggest starting out that strategy with a unique store design that helps the seller establish their own brand within the eBay site. dZine-Hub's design experts help clients achieve that goal with an affordable and reliable design service, which includes eBay stores and matching ebay listing templates that are visually powerful, memorable, and drive home the sales every time.
Many of dZine-Hub's clients have noted that having a professional store design has delivered a major competitive advantage, leading to increased pageviews and increased sales. One client and long-time eBay seller said, "I am very happy, and I can say that visits and sales in our new redesigned eBay shop have now increased by 25%." Clients also praise the personalized service offered by dZine-Hub, where professional designers are always available and their ebay consultants are responsive to any and all queries and requests.
"We're very pleased to have helped so many of our customers make a great impression on eBay," said the dZine-Hub spokesman. "Our goal is always to help our customers succeed." In addition to creating a distinct identity, dZine-Hub offers full eBay shop design that includes the header, seller logo design, search box and custom page layout. eBay sellers also rely on dZine-Hub to create specialized features such as dynamic store categories and cross-promotions drop-down boxes. "We also realize that many customers need changes and additions to their stores over time, and we've got that covered too, with 12 months of free follow-up support," said the dZine-Hub spokesman.
In celebration of their 200th client, dZine-Hub is offering a special coupon code for new customers. By using the coupon code DZINE200, new clients will get 5% OFF the price of eBay store design and listing template design package (coupon valid until Nov 2010).
# # #