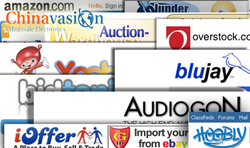 There are many new products with fewer competitors selling the same thing.
Shenzhen, Guangdong (PRWEB) January 17, 2009
Wholesale dropship company Chinavasion has expanded the field of opportunities for resellers looking for alternatives to eBay by publishing a list of alternative websites through which individuals and businesses can sell electronics and other goods.
The brand of ecommerce giant eBay is synonymous with online auctions.
However, eBay's recent shift from the seller-focused online auctions to an instant sales portal with a more buyer-focused experience resulted in eBay powerseller and eBay trader revolts.
EBay's scrapping of seller feedback for buyers, the repeated increase in fees and the ban of digital item sales caused most of the ire.
According to wholesale electronics supplier Chinavasion's Rose Li it is this eBay trader dissatisfaction has resulted in the creation and increasing success of a number of eBay alternatives.
"Many of the online auction sites launched from 2003 to 2009 were created simply because a powerseller or a seller was tired of eBay and wanted to offer a better service," said Rose Li.
As a result, many online auction sites, alternatives to eBay, and ecommerce listing sites have been gaining ground on eBay, according to Chinavasion's Rose Li, especially in local markets.
One eBay alternative, Amazon, has making big inroads on eBay's market share.
According to online market research company, Comscore, Amazon had 7% more traffic in December 2008 than it did in the same period in 2009 while eBay's traffic tally fell by 4%.
According to China wholesale supplier Chinavasion's Rose Li, resellers appreciated the friendlier, more up front and open approach eBay auction alternative sites took to sellers and the more targeted audience base they created.
Chinavasion's Rose Li said this is why the wholesale dropship company has created a dynamic and free list of more than 50 eBay alternatives that resellers and ecommerce operators could use.
"Just as there are more available wholesale products coming from China manufacturers there are more selling options available to resellers and ecommerce operators," said Rose Li. "Chinavasion wants to open up those opportunity to resellers."
According to Chinavasion's Rose Li there are numerous wholesale electronics and China wholesale product opportunities available to people operating a home business selling items on ecommerce sites now.
"As drop shipping is now coming direct from China, profits for home businesses are bigger," said Rose Li. "There are many new products with fewer competitors selling the same thing."
According to Rose Li the wider range of products and wide range of alternatives to eBay made drop shipping an excellent method of supply chain management, especially when home business operators teamed up with a company like Chinavasion.
Rose Li says Chinavasion's wholesale dropship service is especially suited to sites on the list as it gives users of the dropship service all the necessary information to put a listing onto the site with a minimum of fuss.
"Chinavasion provides customers with the products, descriptions, and blind drop-ship service, said Rose Li. "Now all resellers have to do is to go out to these sites and sell for profit."
Chinavasion.com is the leading online drop ship wholesaler for consumer electronics. Accredited by Validated Site, ScanAlert, and Verisign, and listed in all the leading B2B directories, http://www.chinavasion.com is the market leading online wholesale electronics shop for eBay dropship sellers and importers worldwide. For more details visit: http://www.chinavasion.com/
# # #