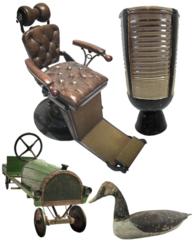 We are so honored to be chosen by eBay for this great event. It provides an appropriate entry point into our fifteenth year as full-time eBay sellers
Eastern Shore, DE (PRWEB) September 07, 2012
In celebration of their entry into year fifteen eBay member Estate Auctions Inc continues the tradition of fun and adventure with multiple promotions and special events. The month long celebration begins in September and concludes with a huge event to be celebrated on October 3rd, 2012, the exact day and month they began the fun filled journey of adventure and treasure hunting.
One of the most recent successes celebrated by Estate Auctions Inc is their involvement in the "Fall Into Antiques" event presented by eBay. The event begins September 6th at 9:00 PM ET and features four of the top sellers of antiques on eBay. Estate Auctions Inc will be listing sixty high quality items with each having a starting bid of .99 cents. The auctions will last ten days and will feature such items as:

Very Rare C Ash Sons & Co Late 1800's Rotating Cast Iron & Leather Dental Chair from England
Huge all wood 1800's Antique Carnival/Tavern/Saloon/Midway Ball Game with Original Wooden Balls
1938 Vienna Austrian Studio Ceramic Lucie Rie Vase/Kiddush Cup
Chinese Mid 1800's Ming Style Jade Dragon Rhyton Libation Cup Qilong Qing with Lizard-Like Baby Dragon Bodies Crawling On The Cup
"We are so honored to be chosen by eBay for this great event. It provides an appropriate entry point into our fifteenth year as full-time eBay sellers. The past fourteen years on eBay has been good to our family, in fact the main reason we decided to write a book about it was so others could learn from our experience and be successful also." says Norb Novocin, owner of Estate Auctions Inc.
One of the many promotions the Novocins will be presenting up to October 3rd will be special pricing on their recently published book Getting Sold On Ebay, The Treasure Hunter's Guide To Making Money. The book has received stellar reviews and was a finalist of the 2012 Next Generation Indie Book Awards. The Novocins have also been featured on numerous radio programs and The Balancing Act on The Lifetime channel.
To learn more about the Novocins and Estate Auctions, Inc. visit them on eBay, user ID EstateAuctionsInc or follow them on Twitter @KnowsEbay. Do you have a valuable antique you would like to sell on eBay? Call for consigning information at 1-800-573-3508. You can find their new book Getting Sold On Ebay, The Treasure Hunter's Guide To Making Money at http://GettingSoldOnEbay.com or Amazon.com for only $9.95, the version which features Volume One of their video training can be found on eBay for $11.95.