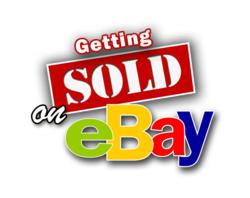 We especially enjoy our recent opportunity to help others get their eBay businesses up and running
Eastern Shore, DE (PRWEB) March 23, 2012
Norb and Marie Novocin, 14 year veteran sellers on eBay and owners of Estate Auctions, Inc. are proud to announce the release of their long awaited book Getting Sold On eBay. This Treasure Hunter's Guide is made up of 208 full color pages of practical steps and examples which empowers individuals to make money on eBay. The adventure and excitement of picking unfolds as the authors share the many experiences that has bought them success.
Estate Auctions, Inc. owners, Norb and Marie Novocin, via eBay, have run a flourishing home-based business for over fourteen years, and a fifty foot walk to the storage facility is often the extent of their daily commute. "We are fortunate to have developed this into a full-time business. It's been a lot of hard work, but the benefits are amazing. We have always enjoyed the opportunity to help others with their eBay businesses up and running and so we published Getting Sold On eBay, The Treasure Hunter's Guide To Making Money. Many people think it's a stretch to have a good part-time or even full-time income with eBay, but our book is proof it can be done," says Norb Novocin.
As a result of their continued success, the Novocin family was urged by friends, family, and clients to write a book about their many experiences, such as when they bought a crate of military electronics for $244 then shortly thereafter, found themselves selling sensitive aircraft communications parts once used by the U.S. Air Force. Newsweek magazine found the parts on eBay then wrote and released a story about them — which got picked up by over 18,000 news sources. (This story can still be found on the Internet.) Armed agents showed up at the Novocin family's door, inquiring about the parts. After signing non-disclosure documents with the U.S. Government, a secret settlement was reached. Another amazing Treasure Tale (as the Novocins call them) is 16-year-old Judah's favorite eBay adventure. At a small farm auction, they bought a Norman Rockwell print, hand signed by Rockwell himself, as well as Brooks Robinson for just $40.00. When researching it, they learned that the Rockwell museum had never seen the print! The Novocins loaned them the find to appraise and display in their museum for over six months. Much to everyone's surprise, the Novocins eventually sold the Rockwell on eBay for an astonishing $6,900. These amazing tales are not isolated sales. Treasure Tales occur on a month in, month out basis, and many are highlighted in their book — Getting Sold on eBay.
For anyone considering a legitimate way to generate extra income from home, for those who love adventure and discovery, Getting Sold on eBay is the book to get. Check out the latest rave reviews about Getting Sold on eBay on Amazon.com — "I'm thrilled to have read this book! A stay-at-home mom, I've never made any 'real' money from home...until now. This book showed me how to make considerable cash with a witty yet educational approach." Also, "This is absolutely the best book to get you started selling items on eBay. It is brilliantly written. The advice is so easy to follow. I highly recommend Getting Sold on eBay to anyone who wants a guide on making money selling on eBay."
The book is available on eBay, the Getting Sold on eBay website, and Amazon. The Novocins one-hour training DVD, "Acquiring Items That Make You a Profit," is a limited time, free bonus with Getting Sold on eBay purchases through their eBay store or on their Getting Sold on eBay website. The DVD describes how to locate the best buying sources, determining trash from treasure, and much more.
Follow Norb and Marie on Twitter at @KnowsEbay or "Like" Getting Sold on eBay on Facebook for updates.