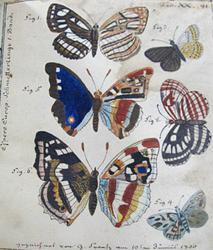 Rare and unusual items are the norm for the Novocin's. They continue to satisfy the taste of a loyal customer base
Eastern Shore, USA (PRWEB) June 06, 2012
Estate Auctions Inc. is pleased to announce a rare opportunity to own the original manuscript of Professor Eugenius Johann Christoph Esper's book, "Die Tag-und Abend Schmetterlinge, die Nachtschmetterlinge". It is in 2 volumes with a total of 806 pages, with 221 watercolor paintings for the plates. " We are so excited about the opportunity to list something as important as these two volumes. How often do you come across an original hand written manuscript of a famous book, not only the original manuscript, but with the original paintings of the watercolor plates. Well, that is what we have here." says Norb Novocin, Owner of Estate Auctions Inc. of Delaware.
Eugenius Johann Christoph Esper (2 June 1742 – 27 July 1810) was a German entomologist. Born in Wunsiedel in Bavaria, he was professor of zoology at Erlangen University.
Eugen and his brother Friedrich were introduced to natural history at an early age by their father Friedrich Lorenz Esper, an amateur botanist. Encouraged to abandon his theology course by his professor of botany Casimir Christoph Schmidel (1718–1792) Eugen Esper, instead, took instruction in natural history.
During his leisure hours Esper devoted himself to the study of nature and the preparation of manuscripts relating to natural history. He was the author of a series of booklets entitled Die Schmetterlinge in Abbildungen nach der Natur mit Beschreibungen which were published between 1776 and1807. These were richly illustrated; minerals, birds, plants, shells and insects being presented on 438 hand-coloured plates. A second work was published in 1829-1830 with Toussaint de Charpentier (1779–1847). This is an important work on the butterflies of Germany, following the Linnean System. Esper was also the very first person to research palaeopathology.
The review of entomology, Esperiana, Buchreihe zur Entomology, created in 1990, commemorates his name and work. Esper's collection is in the Zoologisches Staatssammling München.
This auction closes Monday, June 11th at approximately 10:00 PM EST. Interest in this rare manuscript continues to increase as the closing draws near. Over 100 photos have been posted, including many of the original watercolors.
Rare and unusual items are the norm for the Novocin's. They continue to satisfy the taste of a loyal customer base and have even published a book about these experiences. Getting Sold On Ebay, The Treasure Hunter's Guide To Making Money, which has received stellar reviews and is receiving national attention.
To learn more about the Novocins and Estate Auctions, Inc. visit them on eBay, user ID EstateAuctionsInc or follow them on Twitter @KnowsEbay. Do you have a valuable antique you would like to sell on eBay? Call for consigning information at 1-800-573-3508. You can find their new book Getting Sold On Ebay, The Treasure Hunter's Guide To Making Money at http://GettingSoldOnEbay.com or Amazon.com.