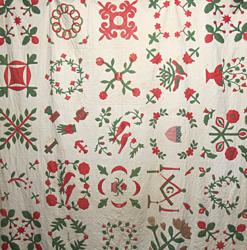 This is the most interesting and historic quilt we have ever listed on eBay
Eastern Shore, DE (PRWEB) June 09, 2012
Estate Auctions Inc. is pleased to announce a rare opportunity to own a fantastic piece of American history. A dated 1867 Baltimore Album appliqué quilt with its roots in historic Baltimore, Maryland. Each of the 25 blocks are signed in ink by the maker and in many cases reflect the interests of each signee. "This is the most interesting and historic quilt we have ever listed on eBay. When we received this from our consignor I was thrilled and honored to be able to put such a wonderful piece of history up for auction," says Norb Novocin, Owner of Estate Auctions Inc. of Delaware.
Baltimore Album Quilts originated in Baltimore, Maryland in the 1840s. They have become one of the most popular styles of quilts and are still made today. These quilts are made up of a number of squares called blocks. Each block has been appliquéd with a different design. The designs are often floral, but many other motifs are also used, such as eagles and landmarks. They have a background of white and incorporate many primary colors such as reds, greens and blues.
Most Baltimore Album quilts were signed. The discovery of an indelible ink made it possible to ink flowery poetry and sayings along with a signature on each block. It appears making these quilts were especially popular with young women. Many of these quilts included blocks each made by a different person. The complexity of the designs of the blocks demonstrated the skill and taste of the maker. Many hours were devoted to the creation of these quilts, and many were carefully preserved as family heirlooms.
This auction closes Monday, June 11th at approximately 10:00 PM EST. Interest in this rare quilt continues to increase as the closing draws near. Over 50 photos have been posted, including many of the original signatures.
Rare and unusual items are the norm for the Novocin's. They continue to satisfy the taste of a loyal customer base and have even published a book about these experiences. Getting Sold On Ebay, The Treasure Hunter's Guide To Making Money, which has received stellar reviews and is receiving national attention.
To learn more about the Novocins and Estate Auctions, Inc. visit them on eBay, user ID EstateAuctionsInc or follow them on Twitter @KnowsEbay. Do you have a valuable antique you would like to sell on eBay? Call for consigning information at 1-800-573-3508. You can find their new book Getting Sold On Ebay, The Treasure Hunter's Guide To Making Money at http://GettingSoldOnEbay.com or Amazon.com.