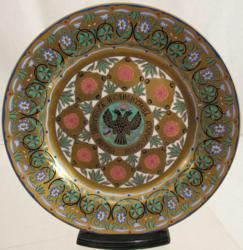 Our clients appreciate the out of the ordinary and quirky items and this plate certainly falls into that category
Eastern Shore, DE (PRWEB) June 18, 2012
Estate Auctions Inc. is pleased to announce a rare opportunity to own a unique and very hard to find Kremlin Service Plate. "We continue to be astonished at the rare unique items that come through our doors. Our clients appreciate the out of the ordinary and quirky items and this plate certainly falls into that category." says Norb Novocin, Owner of Estate Auctions Inc. of Delaware.
After much research Mr. Novocin discovered that a set of 12 plates, which matches this single plate currently listed on eBay, sold at Sotheby's in 2004 for $78,000. Again in 2008, a set of 6 sold for $34,000. A single plate available outside of a high end auction house is very rare but for the opening bid to be less than a dollar... you may never see that again.
The plate is from a service that was commissioned for use in the Great Kremlin Palace, the official Moscow residence for the Imperial family, when the process of renovating, and ultimately rebuilding, the palace began in 1837. The task of designing the new service fell to the talented student and future professor of the Academy of Arts Fedor Solntsev, who had been studying and recording Russian antiquities. He drew upon 17th century metalwork as a model; in the case of this plate, the source was a sumptuous gold plate made for Tsar Aleksei Mikhailovich by masters of the Moscow Kremlin Armory in 1667. See Tamara Kudriavtseva, Russian Imperial Porcelain, St. Petersburg, 2003, pp. 130-132.
This auction closes Monday, June 18th at approximately 10:00 PM EST. Interest in this rare and historic plate continues to increase as the closing draws near.
Rare and unusual items are the norm for the Novocin's. They continue to satisfy the taste of a loyal customer base and have even published a book about these experiences. Getting Sold On Ebay, The Treasure Hunter's Guide To Making Money, which has received stellar reviews and is receiving national attention.
To learn more about the Novocins and Estate Auctions, Inc. visit them on eBay, user ID EstateAuctionsInc or follow them on Twitter @KnowsEbay. Do you have a valuable antique you would like to sell on eBay? Call for consigning information at 1-800-573-3508. You can find their new book Getting Sold On Ebay, The Treasure Hunter's Guide To Making Money at http://GettingSoldOnEbay.com or Amazon.com.